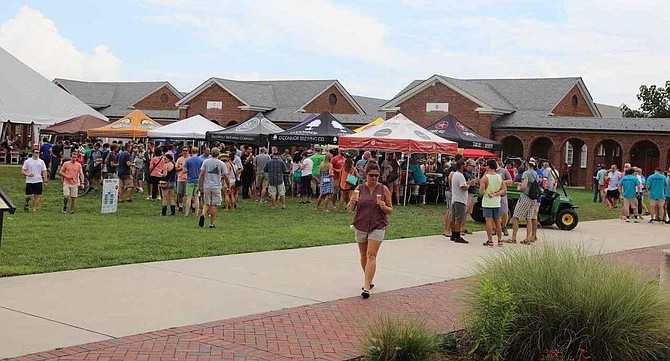 Where and When
"Brewfest" at Workhouse Arts Center, 9601 Ox Road, Lorton, Saturday, Aug. 4, 2018, from 1 to 8 p.m. (rain or shine). Detailed information about ticket options from $20 to $85, the HopStar VIP Experience limited to 300 guests, and parking available at: http://workhouseb...">http://workhouseb... or call 703-584-2900. Note: Designated Driver tickets are available. While children are permitted to attend the event, programming is intended for an adult audience. Children or those under the age of 21 who wish to attend will need to have a Designated Driver (non-drinker) ticket, and will have grounds access, unlimited root beer and bottled water, and be able to enjoy on-site musical performances. Children are required to be accompanied by an adult or guardian. As per Workhouse policy, pets are not permitted at "Brewfest." Service animals are welcome in the studios, galleries, museum and theatre. Brewfest has partnered with the Fairfax Alliance for Better Bicycling to support community members who would like to bike to the event.
Brewfest has been flourishing at the Workhouse. With its previous successes shown by attendance of about 2,700 guests, Brewfest returns for its third edition. It is now one of the Workhouse's signature outdoor summer time gatherings.

Brewfest will spotlight craft brews, artisan spirits, and fine wine from Northern Virginia, the Commonwealth and from the mid-Atlantic region.
"With extremely positive feedback from vendors and guests alike, we expect that we'll increase guest attendance this year," said Ava Spece, Workhouse Arts Center CEO and President.
"Some favorite breweries and distilleries are back, including Forge, Adroit Theory, and Ornery, all winners of the 2017 Best Brew Competition, alongside new additions like Ono Brewing and Filibuster Distillery," said Spece in a recent interview. "And our lineup of a dozen bands includes returning favorites like Practically Einstein and new additions like the incredible Lovely Rita."
This year Brewfest expects around 75 different products (brews, spirits, ciders, and wine) available for sampling. In addition to the sampling, guests can explore 65 artist studios, exhibitions in 12 art galleries, and exciting vendors located throughout the Quad.
"This will be our first Workhouse Brewfest to make use of our completely renovated Quad," added Spece. "We've rebuilt (literally) from the ground up, new lawn, pathways, and brick patio beneath our Rizer Pavilion."
Michael Katrivanos, founder, New District Brewing "relishes the opportunity to be part of the Workhouse Brewfest. The event connects the arts and commerce." He went on to say that Brewfest has "the synergy of a street fair vib. We want to support the awesome space that is the Workhouse Arts Centers."
"Brewfest is a great way to educate people in the community about local independent business offerings," said Cyndi Hoffman, co-owner, Chantilly's ONO Brewery Company. She also spoke of how Fairfax County has "become a welcoming location for independent small breweries each with their own unique personality."
Food trucks and vendors will be on-site to offer a variety of tasty dining selections. Workhouse studios and galleries will be open to the public. There will even be lawn-games.
"Brewfest 2018 is a great way to introduce the Workhouse Arts Center to those not yet familiar with our wide range of outdoor and indoor activities," said Spece. Brewfest is a partnership of The Workhouse Arts Foundation, in coordination with Visit Fairfax, Celebrate Fairfax, Inc., Fairfax County Government, and the Fairfax County Park Authority.