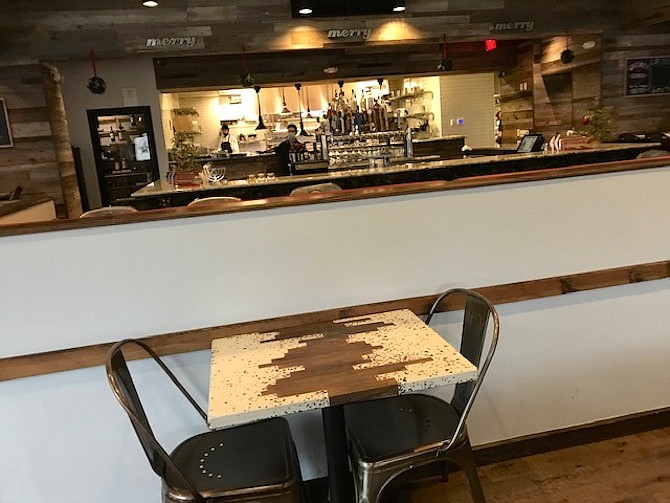 For the past several years, as Reston has welcomed new eateries, some of the old-timers still deserve a golden crown. One of these is the picturesque Red's Table, positioned to overlook Lake Thoreau off of South Lakes Village. The view plus the outstanding chef-created meals—and bartender's drinks—assure patrons of a memorable experience.
Started by three brothers who had grown up in the area, Red's Table has since its beginnings featured fresh and sometimes rather unique offerings, such as the goat cheese fritters served with chili-apricot jam. These have been featured probably since the restaurant's opening, and that is symbolic of the kitchen keeping the best on hand.
The lunch menu offers enough treats to keep midday folks coming along. Besides the fritters, the fried coconut shrimp (probably enough to work as an entrée) and duck confit spring rolls can start off any meal with a bang—as will the clam chowder with oyster crackers and bacon.
Sandwiches are also star entries on the lunch menu. Although the choices are limited to only four offerings, perhaps the best knock-out dish—and skip past the dry-aged burger— is the Red's Fried Chicken Sandwich. A boneless breast has been dunked in an ultra-crispy coating before frying and then being paired with cheddar cheese, loads of crispy bacon, lettuce, tomato and chipotle ranch dressing layered on a roll. If any sandwich could be addictive, this would be the one.
Salad selections include an entrée-sized Cobb salad with the usual add-ons plus diver scallops, an unusual twist on the classic. Other smaller offerings include a Tuscan kale and barley salad; roasted beet and goat cheese salad; and as a side offering, a baby wedge salad with smoked bacon. Salad lovers are offered the option of adding steak, shrimp, market-available fish, and chicken to enrich the salad offering.
For the super hungry midday, Red's kitchen puts out five hearty entrées, from the fish catch of the day; steak frites; blue jumbo lump crabmeat; a roasted half chicken; and a "fall" harvest pasta with pappardelle, pomodoro sauce, squash, and spinach plus more.
As for dessert offerings, sadly the once always-present Key Lime pie has vanished, and in its Red's Table presentation, it was one of the best iterations around town. However, the kitchen does put out other options, including a New York cheesecake with strawberry compote and toasted pecans and a chocolate layer mousse cake.
Whether for lunch or dinner, be sure to check out the drinks and wine offerings. Their house cocktails include a Mojito and something called a Harvest Mule. Check out holiday offerings and book a table ASAP.
Red's Table, South Lakes Village Shopping Center, 11150 South Lakes Dr., Reston,. Phone: 571-375-7755; Open daily for lunch and dinner and weekend brunch. https://redstableva.com/