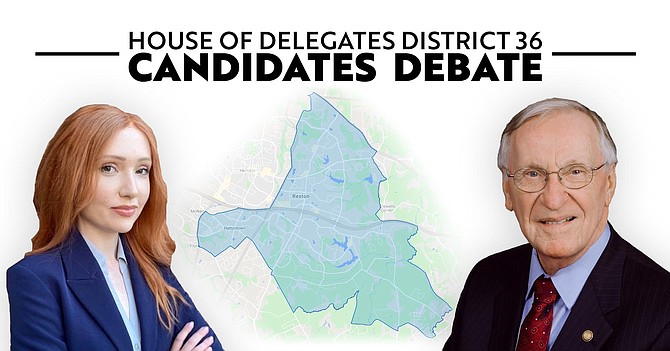 The Fairfax County Democratic Committee canceled its Friday, April 23, 7- 8 p.m. public debate to be held virtually between incumbent Kenneth "Ken" Plum and challenger Mary K. "Red" Barthelson. They are candidates in the 2021 state primary for the Virginia House of Delegates District 36. FCDC planned the free virtual event open to the public to allow the candidates an opportunity to describe their experiences, share their visions for the District, and answer voter questions. Early voting for June 8, 2021, primary election began on April 23, the same day as the scheduled debate.  
According to Plum, he was given two explanations by the Fairfax County Democratic Committee for the last-minute debate cancellation. Referencing a string of emails Plum provided to the Connection between himself and Jack Kiraly, Executive Director, FCDC, Plum said one explanation was that his opponent, Barthelson, was "stepping back from her campaign and was not doing events at this time." Plum added, "I do not know what that means; is she quitting the race for good or just temporarily?"
The second explanation provided to Plum at the time he said was that his opponent was not available. "The debate had been scheduled for weeks. If she needed to be away, the debate was going to be virtual and could be accessed from wherever," said Plum.
Plum said he thought the debate should have been held as scheduled. If his opponent chose not to attend "after apparently agreeing to participate, there could be the empty chair." "That is not uncommon [in] debates when one candidate refuses to participate," he said. 
Plum said he contacted people who signed up to ask questions and apologized to them. "(I) assured them that I had nothing to do with the cancellation. I encouraged them to contact me at kenplum@aol.com," he said. Reached for comment April 24, the day after the scheduled debate, Barthelson wrote in an email, "I have not withdrawn." 
Barthelson added she had to "step back from actively campaigning to deal with a personal matter." She said that while she had hoped to be back and engaged in the debate, she could not. "I notified FCDC Thursday. I was uncertain of if or when I would be back to campaigning." 
"As of me writing this now (April 24), I expect to be back in the next week," Barthelson said.
The primary winner will face Republican Matthew Lang in the November general election.
Kenneth "Ken" Plum (D-36)
Retired, education administration Fairfax County Public Schools 1966-1996; currently the longest-serving member of the House of Delegates., 40 years of service, (1978-1980) (1982-present). Comments: My vision for my district and for the Commonwealth of Virginia is a community where all persons are free from discrimination and have access to educational programs through which they can achieve their full potential; have access to healthy food and health services, housing, and safe neighborhoods; and where the challenges of climate change are addressed and the water and air are pure. |Membership & Affiliation Highlights: United Christian Parish of Reston, Virginia Literacy Foundation (charter board member), Retired Teachers' Association, and Dulles Corridor Rail Association (chairman) 
https://www.facebook.com/kenneth.plum
Contact: Kenplum@aol.com  


Mary K. "Red" Barthelson
Early years in Fairfax County. Holds master's degree in systems engineering – George Mason University. Work – Data Analyst and Systems Engineer, Employed at M.C. Dean focused on operations research. Listed as an agent-PPE 4 NOVA LLC. Actions:Plans to create education and job opportunities for low-income families by reducing barriers to workforce entry; focused on green initiatives; pledged not to take money from (Richmond-based) Dominion Energy. Comments: My education and work experience as an engineer has prepared me to serve the community...To fight for those who are most vulnerable has always been a cornerstone of my personal beliefs…I would never allow anyone to go without a voice. I envision a future for my community where this is a reality, not talking points…discarded by politicians the next day. Membership & Affiliation Highlights: Former FIRST Robotics mentor.  https://twitter.com/Barthelson4va
 https://www.facebook.com/barthelson4va  
https://barthelsonforvirginia.com/?page_id=8
Contact: jeff@barthelsonforvirginia.com