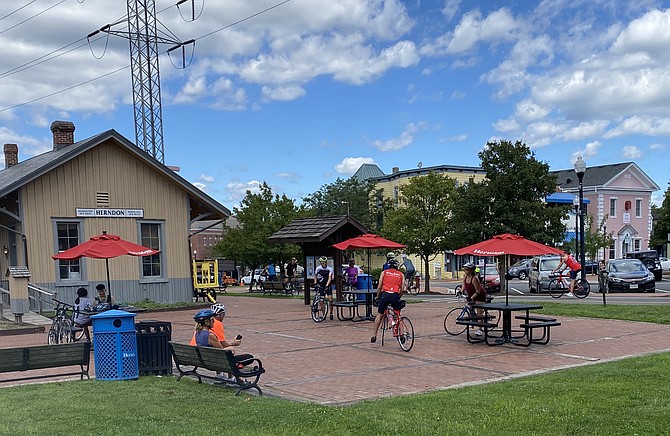 The Democratic Sample Ballot for Town of Herndon Elections this fall will show candidates endorsed by the Fairfax County Democratic Committee (FCDC). Saturday night, Aug. 29, FCDC announced the results of its virtual unassembled caucus to endorse up to six candidates seeking seats for Councilmember Town of Herndon during the General Election November 3, 2020. The Committee endorsed candidates Naila Alam, Cesar A. del Aguila, Pradip Dhakal, Signe V. Friedrichs, Sean Regan and Jasbinder Singh. It did not endorse Bessie E. Denton and Syed F. Iftikhar.
All eight individuals requested endorsement of their candidacy by FCDC and pledged in their application to support only candidates endorsed by the FCDC in the 2020 Herndon Town Council election. The candidates who received the most votes and at least 15 percent of cast votes in the unassembled caucus that ran Aug. 10 – 28, 2020, received the endorsement. Any candidate who did not receive the endorsement and failed to withdraw from the race forfeited their $500 filing fee to FCDC, according to the FCDC Endorsement Application for Council of Town of Herndon General Election –Nov. 3, 2020. In the application, candidates certified they were Democrats and pledged "to support only Democratic nominees and candidates endorsed by the FCDC in the 2020 Herndon Town Council election."
After learning they did not receive the endorsement, Denton and Iftikhar spoke about their next steps. Denton said, "In fulfillment of my pledge to FCDC, I am submitting Candidate Withdrawal Form §24.2-612.2 of the Code of Virginia to the Virginia Department of Elections. I am no longer a candidate for Herndon Town Councilmember." In an email late Monday night, Aug. 31, Syed F. Iftikhar wrote: "I regret to inform you that I have not qualified to run on the Democratic party ticket in 2020. However, I am eagerly awaiting 2022 elections where I plan to make an enthusiastic run for candidacy."
According to Bryan Graham Chair, Fairfax County Democratic Committee 413 ballots were cast, 390 online and 23 by mail. "This was a new process for us, both because all Democratic voters could participate and because the Coronavirus forced us to adapt to mail and online options. We look forward to supporting our endorsed candidates in the Town of Herndon, and all of the Democratic nominees as we head into the most important election in a generation," he said. FCDC endorsed 2020 Mayoral Candidate Sheila Olem by a vote at its July 28, 2020, general meeting.