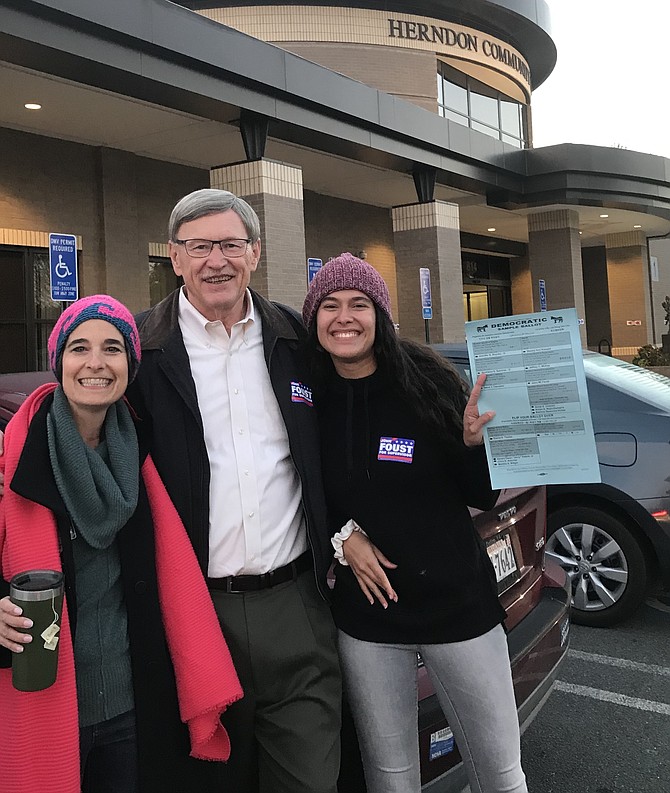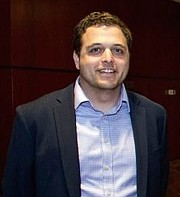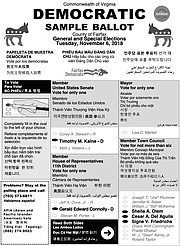 The issue of partisan party endorsements in a nonpartisan election appears to be one of the pending topics for discussion by candidates in the November 3 Town Council General Election in Herndon this fall. Twelve candidates in the municipality face off for seven of the seven open seats. Nine applied for endorsement by the Fairfax County Democratic Committee and the other three apparently want nothing to do with a political endorsement from any party. "I believe candidates should share their world view. These days, it is not easy to connect with all voters personally, so there is value aligning with a political party. Voters can quickly determine the foundation of a candidate's priorities. Even at the municipal level, views impact decisions. On Council, we address land use, zoning and budget items. Priorities and views drive outcomes," said candidate for second term on Council, Cesar A. del Aguila. Opposing the view, challenger for Council Clark A. Hedrick said, "Although I appreciate the work they do to register voters and create an outlet for residents to engage in the civic process, I will not be seeking endorsement from any political organization. My campaign is focused on bringing Herndon together, and I am gathering support from neighbors of all political stripes"
THE FAIRFAX COUNTY DEMOCRATIC COMMITTEE (FCDC) will hold a virtual Unassembled Caucus Aug. 10-28, 2020. The sole purpose of the caucus is to select the Party's endorsees for November 3, 2020, Town Council General Election Fairfax County – Herndon, pursuant to the Virginia Democratic Party Plan. "Because these are official offices, the normal primary process is not an option," said Brian Graham, Chair of the Fairfax County Democratic Committee. Graham's statement indirectly referenced the Virginia Code that required all local office candidates to run as "Independents."
"Election officials within the Commonwealth of Virginia are by law not allowed to provide party designation for local candidates on the ballot. (§ 24.2-613). The only candidates that may have a party designation on a ballot are those running for federal, statewide, or General Assembly offices," according to the Virginia Department of Elections. Notwithstanding, one hundred and forty-seven years after an Act of Assembly incorporated the Town of Herndon, its original Charter stands with a string to limit political party interference. In part, it remains unamended to read: "Candidates for town offices shall not be identified on the ballot by political affiliation."
However, neither the Code of Virginia nor the Town Charter legally precludes political parties, such as the Fairfax GOP and Fairfax Democrats, from producing party-affiliated Sample Ballots like those distributed at Dranesville District precincts, Herndon No. 1, Herndon No. 2 and Herndon No. 3 during the General Election 2018. They stated, "Paid for by the Fairfax County Democratic Committee, fairfaxdemocrats.org, not authorized by any candidate or candidate's committee."
Competition to stand is high among the twelve Herndon candidates who must identify as "Independent" on the official ballot. Incumbent Sheila Olem, who currently serves as Vice Mayor on her fifth consecutive, two-year term on Town Council, seeks her first term as Mayor. She faces challenger Roland B. Taylor. Olem filed an FCDC Endorsement Application. Taylor did not, and he is not soliciting any political party endorsement. "Since she (Olem) was the only candidate for a single office, she received it," said Graham.
Eight of the ten individuals vying for the six Councilmember seats also filed Democratic Endorsement Applications. They are incumbents, Cesar A. del Aguila, Pradip Dhakal and Signe V. Friedrichs along with challengers, Naila Alam, Bessie E. Denton, Syed F. Iftikhar, Sean M. Regan and Jasbinder Singh. The other two Councilmember candidates, Clark A. Hedrick and Stevan Porter said they are not seeking political endorsement.
Jack Kiraly is a member of the FCDC Steering Committee and serves as the organization's Executive Director. This year, according to Kiraly, FCDC's voting members approved a revised Rules and Procedures for Herndon Mayor and Town Council Endorsements. No longer will FCDC voting members, individuals from Reston, McLean, Chantilly, Clifton and such vote for candidates for the Committee to endorse for the Town of Herndon elections, unless they qualify as participants and live in the Town. Graham said, "I'm excited that we are opening up the process to allow the Democratic voters of the Town of Herndon have a say in who we endorse."
Whereas one of the Committee's stated functions is the support and election of Democratic candidates to all public office levels, there is an under riding function that benefits the endorsed candidates. Whether they are running for office in a partisan or nonpartisan election, those endorsed are eligible and may receive party benefits, such as inclusion on the Democratic Sample Ballot, possible campaign contributions from the party, volunteers and more.
The Endorsement Application Process is clearly defined online for individuals. Among other requirements, each candidate for endorsement or "an FCDC member on their behalf," had to submit the candidate's Endorsement Application and a $500 Filing Fee, payable to FCDC by the July 20, 2020 deadline. "Any candidate that does not receive the endorsement and does not withdraw from the race will forfeit the $500," said Graham. According to the Committee's website: "It (the $500) would be applied to the operating expenses of the Caucus related to the endorsement."
The November 2018 election process saw conflict among Town Council members, challenging candidates and the Fairfax County Democratic Committee. Incumbents Olem and Friedrichs and newcomer del Aguila ran on the "jointly endorsed" Fairfax County Democratic Committee platform. Each won a seat in 2018. Mayor Lisa C. Merkel, Councilmembers William "Bill" McKenna and Grace Wolf with newcomer Joseph Plummer stepped away from their Democrat endorsements after the party did not endorse Wolf. The day following the 2018 election, Merkel resigned from the Fairfax County Democratic Committee after seeing signs posted at a Herndon polling station about "some candidates pretending to be Democrats." Merkel retained her uncontested seat; Wolf lost the election as did Plummer. He lost the final and sixth seat on Council to McKenna by 22 votes.
THE PARTICIPANT FORM is available online at fairfaxdemocrats.org/herndon after 10 a.m. on Monday, Aug. 3, and before 7 p.m. on Friday, Aug. 27, 2020. Those who do not have internet access or require other accommodations may participate by calling 703-573-6811. Caucus rules are posted on the Committee's website (https://www.fairfaxdemocrats.org/). For questions or to request accommodations, contact the Fairfax County Democratic Committee at info@fairfaxdemocrats.org. Participants in the virtual 2020 Fairfax County Democratic Committee Unassembled Caucus may vote by an electronic ballot over the internet; mailed ballot returned via pre-paid mail or dropped off at a to-be-announced location in the Town of Herndon on Saturday, Aug. 28. Up to six candidates receiving the most votes and at least fifteen percent of the ballots cast by participants will be considered endorsed for Town Councilmember. The party endorsed Olem on July 28 since she runs uncontested.
What Do Candidates, Citizens Say?
As the days leading to the start of the virtual Unassembled Caucus by the Fairfax County Democratic Committee neared, candidates and citizens weighed in on local political parties making endorsements for local nonpartisan elections.
"For example, do we invest in the town by increasing revenue or cut services to keep taxes low? Do we bond every dollar of every development project or invest as we go to lessen what is borrowed? I think these and other decisions tend to align with political platforms. In the spirit of transparency, I favor political parties, including other organizations, endorsing candidates for office in nonpartisan elections." (Candidate for second term on Council, Cesar A. del Aguila)
"The problem is not so much the endorsement as it is the Sample Ballot. Many voters rely solely on that one piece of paper – especially for local races – without actually getting to know anything about the candidates and their positions. That is not a good way to create an effective Town government." (Candidate for first term on Council Stevan Porter)
"In my opinion, the Democratic caucus in Herndon violates at least the spirit of the law. While winners of the caucus, those running for office are endorsed, so they appear to be nonpartisan, they are not. Each candidate who seeks the endorsement agrees to abide by the caucus election and (if not endorsed) drop out or face a financial penalty. I am ashamed of my Party. Since all registered voters in Herndon can vote in the caucus, (if they complete the participation form), it is not merely a preference poll among party members, it is a partisan elimination primary." (Voting citizen in the Town of Herndon and former member of the Herndon Planning Commission Les Zidel)
"Herndon's government works on matters which almost always transcend the important discussions being led by the Democrat and Republican parties. In keeping with the spirit of Herndon's nonpartisan elections, I believe seeking an endorsement would be a distraction from the local issues that will define our Council's work for the next two years." (Candidate for Council Clark A. Hedrick)
"If a person can run and win with just a party endorsement, then there is a problem with how people determine who to vote for. Forget about what the Party is doing. Herndon citizens are being treated like sheep because they are acting like sheep." (Joseph Plummer, voting citizen and 2018 candidate for first-term Council, lost to incumbent William "Bill" McKenna by 22 votes for the sixth of six Town Councilmember seats.)
"The Democratic Party is endorsing me, as are other groups and individuals; my first commitment is to the people of the Town of Herndon." (Candidate for Mayor and current Vice Mayor Sheila Olem)