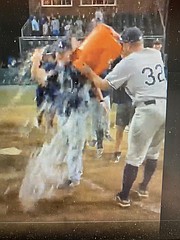 The Alexandria Aces have advanced to the finals of the Cal Ripken Collegiate Baseball League with a two-game sweep of the Silver Spring Thunderbolts in the semi final playoffs.

The Aces will take on the Bethesda Big Train for the League Championship beginning July 29 at Povich Field in Bethesda at 7 p.m. in a best of 3 series. The Aces will play at home July 30 at 6:30 p.m. at Frank Mann Field. Game 3, if necessary, is scheduled for July 31 at Povich Field at 7 p.m.
The Aces won the first of its semifinal games against the Thunderbolts 4-1 on July 25. In the second game of the series on July 27, the Aces were led by a strong pitching performance by Colton Brook (Stoney Brook University) enroute to a 10-0 victory. Brook went 5 innings and allowed only 3 hits and struck out 4. The Aces combined for 15 hits, led by Mark Kattula (Eastern Michigan University) who went 3 for 3 with 2 RBI's.
If there are rain delays, games and sites will be pushed back each day.