First-Place Big Train To Be Well Represented In All-Star Game The first-place Bethesda Big Train had at least 10 members selected to the Cal Ripken Collegiate Baseball League all-star game, according to the league Web site. The game will be held at 7:30 p.m. on Wednesday, July 16 at Shirley Povich Field in Bethesda. Gates open at 3:30 p.m. and the home run derby is scheduled to begin at5:30 p.m. Wes Rea will represent the Big Train in the home run derby.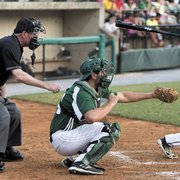 Bethesda players selected to the South All-Star team are: Tony DiLeo (catcher), Justin Morris (catcher), Stephen Alemais (middle infield), Brandon Lowe (middle infield), Logan Farrar (outfield), Cody Brown (outfield), Kevin Tatum (outfield/third base), Josh Thorne (pitcher), Jacob Billingsley (pitcher), and Sean Labsan (pitcher).
Entering Tuesday's action, Bethesda was in first place in the CRCBL with a 24-6 record, 5.5 games ahead of the second-place Baltimore Redbirds.
Lowe was tied for the league lead with 23 RBIs. Pitcher Kit Scheetz was tied for the league lead in wins with four.
Bullis Grad Stucky To Play Lax for Boston U
Joe Stucky, a 2014 Bullis graduate, will play lacrosse for Boston University.
Stucky was a four-year varsity athlete for the Bulldogs. He was an Under Armour Underclassmen All-American as a junior. As a senior, he was a team captain and earned Bullis' Hustle Award.