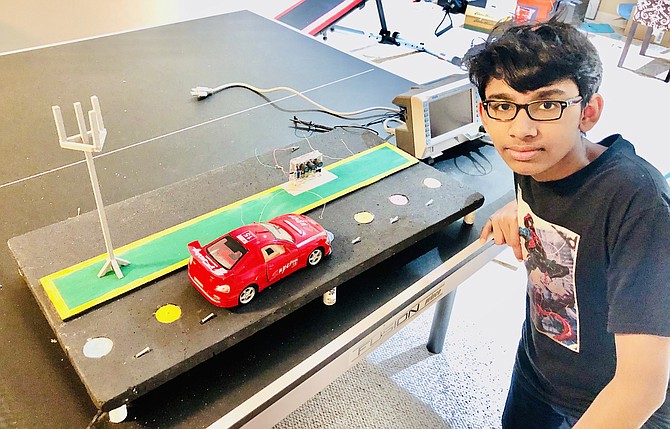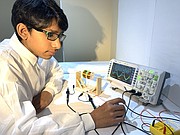 As electric cars are taking over the car industry, charging stations have become a more common sight. Seventh-grader Kriesh Tivare of McLean took it upon himself to engineer an innovative contactless charging project. Through the 3M Young Scientist Challenge, Tivare identified and created a prototype to solve a problem.
Tivare attends Cooper Middle School and was introduced to the 3M Young Scientist Challenge via his father and Science Olympiad Teacher, Lisa Walsh. He described the opportunity as providing him an activity aside from school.
"I started in early November and ended around April. It was something that I would do in my free time over the weekend, after school ended, and during holiday," Tivare said.
After first noticing the large amount of time spent recharging his family's electric car, Tivare decided to solve the problem through wirelessly transmitted charging. Utilizing coils and Faraday's Law of Induction, the car battery is filled.
"A conductor is powered with an alternating current, and then the conductor produces a changing magnetic field," Tivare said, "A nearby coil will interact with the changing magnetic field and get induced with a current. This will be used to charge the battery of the car, and it will be charged purely wirelessly."
Being a novel idea, Tivare thoroughly experimented to find the best configuration. The main variables in his project were related to the length of the coils and the thickness.
"For the length, we use the terminology "Turns." For thickness, it is called gauge. I had to create lots of coils of different turns and gauges and try to find the best, most efficient coil to use on the road that would wirelessly charge the car," Tivare said.
Even after perfecting the coils, a frequency generator was needed to utilize the coils to their maximum.
A frequency generator is a component that provides a current and frequency to the coil. With the right frequency, the resonance frequency, the coils in the road will output the max amount of induction that it can send," Tivare said.
As a result of his hard work, Tivare was ecstatic when he found out he was a State Merit Winner.
"It was a long road to bring the project to where it was and when I heard that it was being appreciated, my wish was fulfilled. There were thousands of kids who participated in this competition and I was happy to be one of the few who were recognized," Tivare said.
Plans for research stretch into the future, when Tivare says he plans to focus on the environmental impact.
"I also plan to continue working on a different 3M project next year, and hopefully do better!"