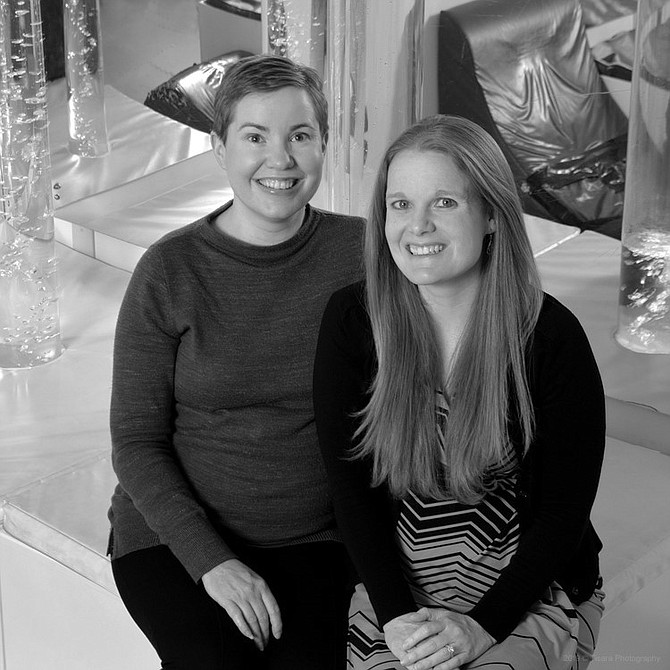 When 18-year-old Kelley Swanson died just a few weeks after her graduation from T.C. Williams High School in 2005, her family wanted her spirit of giving and desire to help others to continue. Less than a year later, the Kelley Cares Foundation was formed to honor Kelley's passion as a volunteer with the special needs community. Kelley was a soccer star during her time at T.C. Williams and believed everyone should have the opportunity to compete in sports, regardless of ability.
In the 16 years since her death, the Kelley Cares Foundation has spearheaded the construction of numerous facilities and programs to serve children and adults with special needs.
"As difficult as it has been at times, I think this has given our family a sense of purpose and helped us through our grief," said Lindsey Swanson, Kelley's older sister.
Lindsey, along with Kelley's twin sister Katey, has been the face of the foundation, which also consists of parents Margaret "Mimi" and Sanden "Sande" Swanson and brothers Ryan and Andrew.
"Mimi and Sande Swanson have spent their whole lives helping others in need," said Alexandria Sheriff Dana Lawhorne. "It's no surprise that Lindsey and Katey have followed in their footsteps."
Added family friend Pat Miller in her nomination of the family as Living Legends of Alexandria: "They are good, solid people."
An early project for the foundation was the Kelley Cares Miracle Field located at the Nannie J. Lee Recreation Center. A Miracle Field is a synthetic turf baseball diamond designed specifically for use by individuals with special needs. The surface is covered in a rubber-like compound that allows a firm, yet cushioned surface for wheelchairs, walkers and more. The goal is to allow youth and adults with special needs to play sports such as baseball, softball, T-ball and even kickball in an inclusive and safe environment.
Kelley Cares Foundation partnered with the Miracle League of Alexandria and the City of Alexandria to fund the project and move it from an estimated completion date of 2020 to November of 2012.
The Kelley Cares Miracle Field and inclusive playground at the Lee Center is also home to the city's Therapeutic Recreation program, where Kelley was a volunteer for many years.
The Miracle Field is also used for older adult walking programs, as a play area for children enrolled in camps and activities at the recreation center, and for the city's youth T-ball league.
According to Recreation Services Division Chief Margaret Orlando, who oversees the city's Therapeutic Recreation programming, "the league play is designed to provide important access to an organized fitness activity while helping to increase participants' self-esteem."
The Miracle League hosts youth and adult baseball leagues for people with disabilities in the spring and fall with "Angels in the Outfield" volunteers from community groups assisting participants with batting, fielding and running the bases.
While the Miracle Field may be the marquee project of the Kelley Cares Foundation, it is just one of many efforts to benefit families with special needs children and adults.
Other endeavors include the Multi-Sensory Room at the Lee Center; the Kelley Cares Foundation Multi-Sensory Mobile; the Lee Center pre-K Tot Lot; and donated iPads and Apple TVs for the Therapeutic Recreation Program to help supplement its programming needs.
In 2015, the Kelley Cares Foundation dedicated the Ruthanne Lodato Memorial Playground. Located at the Lee Center, the fully inclusive and accessible playground features a cushioned play surface, extended ADA walkways around the park and play equipment that provides a safe place for the special needs community to play.
The Foundation worked with CVS Caremark, the Miracle League of Alexandria and community supporters to raise funds for the playground.
"Given her work with children, and her past support as an avid volunteer with the Kelley Cares Foundation, it was natural to name the playground after the late Ruthanne Lodato. Ruthanne was a long-time music teacher in Alexandria who was active in teaching all kids, including those with special needs, the wonders of music," Lindsey said.
Another signature effort for the family was helping establish the Project Lifesaver program in Alexandria. Founded in 1999, Project Lifesaver International is a nonprofit committed to quickly locating missing persons who wander because of Alzheimer's, Down syndrome, dementia and autism amongst others. The Alexandria program was implemented through the Sheriff's Office in 2006.
"Mimi Swanson approached us and the Foundation provided the seed money to bring the program to the city," said Undersheriff Tim Gleeson. "She wanted to do something in memory of her daughter Kelley."
Added Lawhorne: "The Swanson family's support of Project Lifesaver is crucial to getting the tracking monitors to those who need them but can't afford them."
Over the course of many years, the Kelley Cares Foundation has stepped in to provide transportation to Special Olympics competitions for the Bellefonte Wizards, a basketball team comprised of men and women who live in Alexandria residential programs that assist adults with intellectual disabilities. The support from Kelley Cares allowed the team to travel across the state, ultimately taking third place in 2013 at the Virginia Special Olympics State Championships that year.
"I'd like to think that Kelley would be proud to see what the Foundation has done for children and adults with special needs," said Katey. "Still, she would always be looking for ways to do more."
Lawhorne added, "Lindsey and Katey helped establish Kelley Cares in memory of their sister. Together the family continues to change lives through their kindness and generosity. Our world is a little brighter because of the Swanson family."
To learn more about the Living Legends project or to nominate a 2022 Legend, visit https://alexandrialegends.org/.