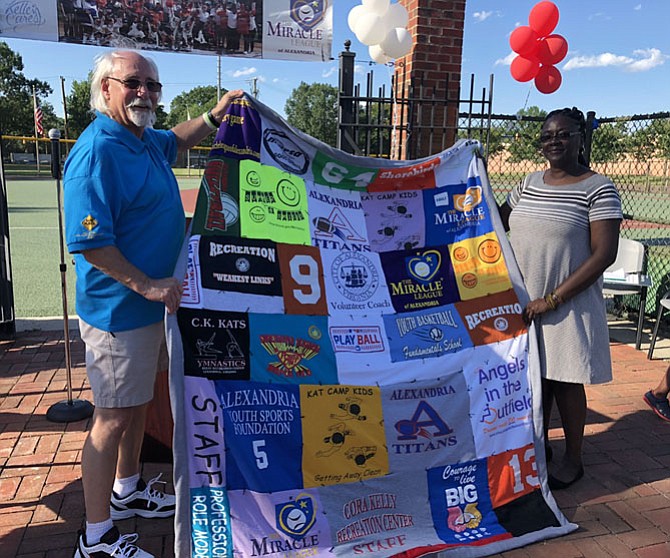 Alexandria — A 30-year era has come to an end as Mac Slover, director of sports for the city's Department of Recreation, Parks and Cultural Activities, celebrated his retirement June 15 at the Kelley Cares Miracle Field at the Nannie J. Lee Recreation Center.
"Mac's retirement is a tremendous loss for the city and our department," said RPCA Deputy Director William Chesley. "He leaves a strong legacy behind that we will have to pick up. It won't be an easy void to fill — he's been a pillar of our department for 30 years."
A native of Georgia, Slover began his career with the city in 1988 when he was hired as director of the Charles Houston Recreation Center. From there he held various director positions at the Charles Barrett Recreation Center, Cora Kelly Recreation Center and Patrick Henry Recreation Center before serving as director of sports for the last 15 years.
Slover's crowning achievement was the establishment of the Alexandria Miracle League, a baseball league for special needs children and adults, and the building of the Kelley Cares Miracle Field.
Named for Kelley Swanson, a volunteer with the city's therapeutic recreation department who died within weeks of graduating from T.C. Williams High School in 2005, the field was dedicated on Nov. 17, 2012 and provides a rubberized surface optimized for wheelchairs and players with special needs.
"While I am retiring from my day-to-day responsibilities, I am planning to continue to voluntarily run the Miracle League for the youth and adult baseball games," Slover said. "It's my baby. I love this program and seeing the smiling faces of the children and adults and the crowd cheering as they run around the bases."
Photo Gallery
Mac Slover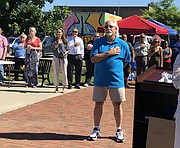 Click Photo for Flash
Lindsey Swanson, sister to Kelley and vice-chair of the Miracle League of Alexandria, praised Slover's dedication to the project and the MLA participants.
"Mac has a huge heart," Swanson said. "Because of his vision and love for the special needs community this field came to be."
After humorous remarks by many of his colleagues, Slover took to the microphone to thank those he has worked with over the years.
"I leave here with a lot of joy and a lot of sadness," Slover said. "Alexandria is a town with a huge heart, where community neighborhoods are important to children and families."
Slover said that the department will be in good hands with Tamika Coleman, his assistant of 14 years.
"Tamika has been the glue that holds everything together," Slover said. "And she shares the same vision as me for this department — to provide the best sports programs possible in a safe and fun environment."
With his children Justin and Lindsey and girlfriend Diane Ford looking on, Slover had to pause several times to compose himself as he thanked all those who supported his vision for the special needs community in Alexandria. "Thank you all for allowing me to dream something and see it come true."
For more information or to volunteer, visit http://www.miracleleagueofalexandria.com