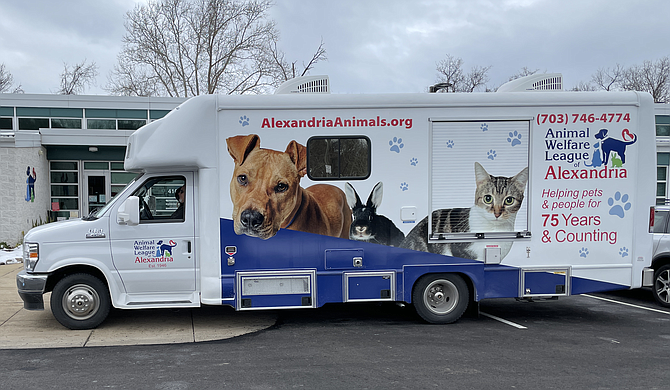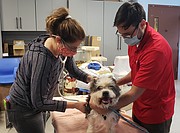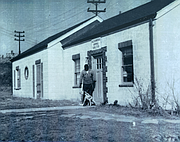 Alexandria's approach toward pets and their care has changed drastically over the last 75 years. Today, people think of animals as members of the family – and not just elements of their households. And this important change in collective perspective is due in large part to the work of animal advocacy and rescue organizations like the Animal Welfare League of Alexandria (AWLA). AWLA celebrated its 75th anniversary in June.
"Over the last 75 years, there has been a growing understanding about animals, both as pets and as animals in our society in general," Gina Hardter, AWLA Director of Marketing & Communications, said. "People today understand more about them, that they are sentient creatures who feel pain and happiness. Naturally, as you learn more about anything, you become more invested in them, and here at AWLA, we are committed to educating the community, which has helped make Alexandria the pet friendly city that we are now."
Alexandria has not always embraced animals with these open arms. It was in 1946 that a small group of residents first established the ALWA in order to confront the conditions of the city's existing animal shelter.
"The AWLA was incorporated in part because people in Alexandria were concerned about how deplorable conditions were at the existing animal shelter," Hardter said. "It got to the point that people were actually breaking into the facility to free the animals, and this was the contingent of people who worked with the city to improve the conditions of animal care."
By the beginning of 1951, the AWLA had assumed full responsibility of Alexandria's animal shelter. With a budget from the city government, in addition to fundraising, AWLA members were able to provide higher quality care to Alexandria's animals.
They wasted no time: in fact, that very January, the AWLA opened a new shelter for local animals on South Payne Street. In its first six months of operation, this facility housed more than 1,000 animals and the AWLA oversaw more than 250 adoptions.
Since then, the Animal Welfare League of Alexandria has evolved significantly. The AWLA shelters roughly 2,000 animals every year, but it is also much more than a rescue organization. For instance, the AWLA takes great pride in the many animal education programs it executes across the community.
"We really started ramping up our humane education in the nineties, when we started programs to connect with animal lovers and to build animal lovers," Hardter said. "This includes programs like summer camps and visiting school libraries to educate students. Getting information to people earlier in their lives is something we feel very passionate about."
Over the course of its 75-year history, the AWLA has also expanded its focus so that it goes beyond supporting animals in need of adoption. Rather, all pets are on AWLA's radar.
"In addition to the education component, another big focus is all animals throughout the community – not just homeless animals," Hardter said. "We have enacted programs that help people keep their pets safely at home, because we realize that once an animal is in a home where they are loved, that may not be the end of that animal's story in terms of what they need."
Through these programs, the AWLA offers affordable, and sometimes free, care for animals in the area who already have homes.
"We have a lot of programs that are designed to be preventative: monthly vaccine clinics, clinics to provide pets with rabies vaccines and to get microchipped," Hardter said. "It's better to provide these for the entire community at no cost or low cost because that is always going to lead to a better outcome for people and animals. It's about getting ahead of crises that might arise or preventing them altogether."
The AWLA's official birthday was Monday, June 28, but Hardter said the organization has been celebrating all year, doing what it does best: empowering people to be the best they can be for animals throughout the community.
"The whole year has been a celebration, and we've honored the milestone by getting a lot of new information and services out there," Hardter said. "This was the first year we provided a community wellness clinic for pets and for people. We worked with the health department to provide registration for COVID vaccinations, and more. The idea is that people need to take care of themselves so that they can take care of those who depend on them."
THIS YEAR, the AWLA also launched Waggin' Wheels, a mobile veterinary suite, to provide easy and early access to necessary medical treatments.
"Now our own veterinarian can use the Waggin' Wheels van as a surgical suite," Hardter said. "This way, we can get these basic procedures done earlier to help animals get home even more quickly. This is very exciting for us. Later in the year, we plan on using this avenue to do more outreach events. With this service, we are meeting people where they are and forming connections with more of the community."
Now in the thick of summer camp programming, the AWLA staff and large team of volunteers haven't yet had the chance to officially celebrate the organization's anniversary with festivities and fun. They certainly will, but celebration will never interfere with their mission, or their evolution to reach new goals and set new precedents in the world of animal rescue.
"The next 75 years will see us educating the community and figuring out what they are looking for from us," Hardter. "We know things are always changing in terms of what people need both for themselves and for their animals. What we do will be determined on a year-by-year basis. The bottom line will always be growing our organization so that we can continue to help even more animals – and the people who love them!"