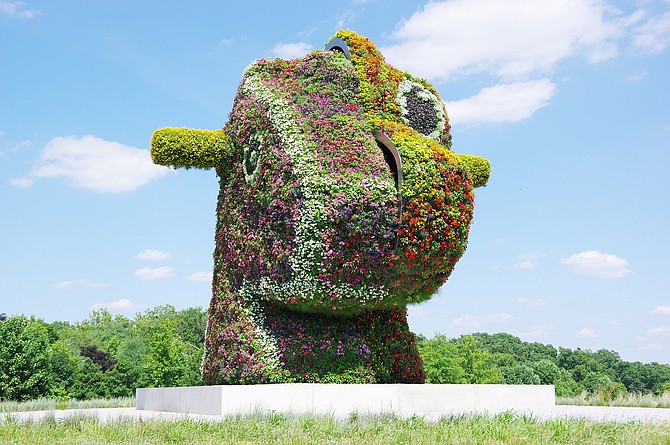 Visiting hours to the Faith Ringgold exhibition, Glenstone walking trails and patio extended until 7 p.m., through Sept. 5
Glenstone Museum will expand admission capacity while maintaining the uncrowded and unhurried visitor experience that has become its hallmark.
Glenstone is offering extended summer hours with guaranteed entry from 5 p.m. to 7 p.m. These extended hours will offer visitors greater opportunities to enjoy the Faith Ringgold exhibition at the Gallery (on view until October 24), the outdoor sculptures, walking trails, and dining at the Patio. The Pavilions will continue to close at 5 p.m., and the Café will continue to close at 4 p.m. As with normal hours, visitors must go through the "Schedule a Visit" page of the website, https://www.glenstone.org, to participate in extended summer hours.
"Our visitors have told us they would like more opportunities to enjoy Glenstone, so we want to do everything we can to accommodate them while adhering to public health and safety guidelines, especially now, when we're about to present new installations and exhibitions in late summer and fall," said Emily Wei Rales, director and co-founder of Glenstone Museum. 
Admission to Glenstone is free.
Students 12 and older, active-duty military personnel, and staff from other museums have guaranteed admission to Glenstone Museum for themselves and one guest with valid ID cards. 
The museum will resume its program with the Montgomery County Department of Transportation that guarantees entry to passengers who arrive via Ride On bus through Sept. 5. The program brings riders to Glenstone via route 301 multiple times each visitor day. A full schedule is available here: https://www.montgomerycountymd.gov/DOT-Transit/routesandschedules/allroutes/Route301.html
Glenstone, a museum of modern and contemporary art, is integrated into nearly 300 acres of gently rolling pasture and unspoiled woodland in Potomac. Glenstone is open Thursdays through Sundays, 10 a.m. to 5 p.m., extended until 7 p.m. from Aug. 5 to Sept. 5. Admission is free, and visits can be scheduled online at: https://www.glenstone.org. Same-day visits can be scheduled online. General inquiries: info@glenstone.org