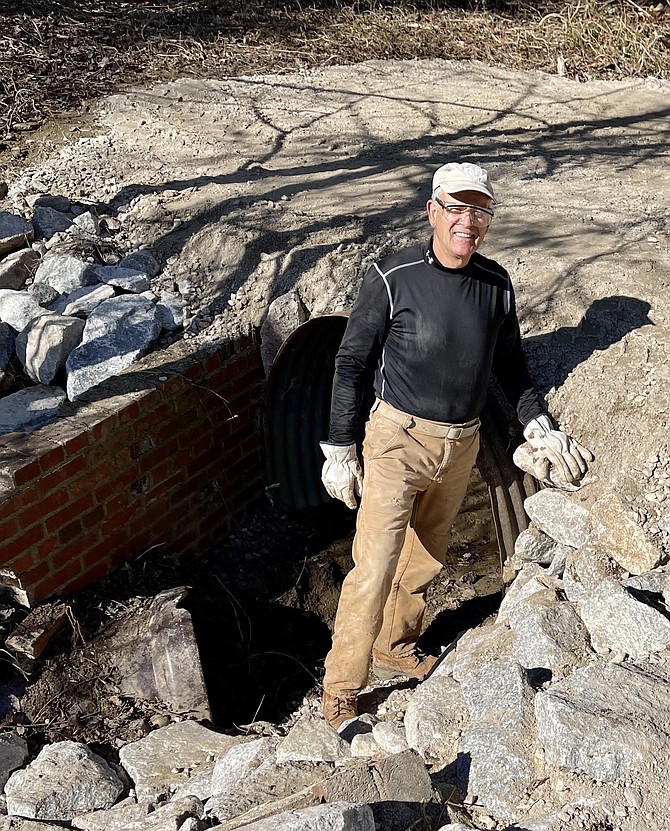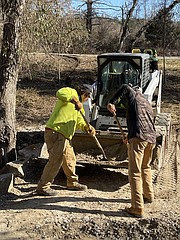 As many citizens take a renewed interest in community service as an energy outlet and to help others during the challenges of the pandemic, we note the on-going efforts of 2018 Ellie Doyle Park Service Award honoree Michael Applegate. Applegate, a familiar figure to users of Laurel Hill Park, has been logging a minimum of 30 hours weekly since 2016. Initially concentrating on mowing along walking and biking trails, of late he has been spending more time on drainage improvement and expanding trail verge areas into the thicker brush.
This week we found Applegate assisting the area's County Maintenance Operations crew in improving an old broken drain at the Park's Ashton-Snowden entrance. A small broken pipe and brickwork dating from the prison era, lining a portion of Giles Run, were improved with a larger volume pipe and added trail for access. Applegate hand dug rocks into the stream bank using a shovel and pick, framing the large water carrier pipe. County maintenance crew members then used mechanized equipment to cover the pipe and line the passage with border rocks.

The enhancements add improvements needed after relocation of some Giles Run Disc Golf Course holes to accommodate the land sale and housing development adjacent to the course.