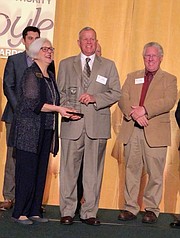 Mount Vernon volunteer Michael Applegate was recognized, among others, for outstanding volunteerism by the Fairfax County Park Authority.
During a ceremony on Nov. 16, Applegate received the "Ellie Doyle Service Award" for his efforts in maintaining and improving the grounds and mountain biking trails in a large portion of Laurel Hill Park — in the Apple Orchard and Equestrian Center areas. He works an average of 30 hours per week on the five-mile trail network — mowing, trimming trees, inspecting and fixing storm damage, improving trail surface and drainage, supervising contractors and scout projects, advising staff on improvements in processes and alterations to facilities to improve the visitor experience.
He regularly mows the grass aprons all along the trails, clearing invasive vines, identifying native trees to save from overgrowth of blackberry vines, builds ramp curves and moguls to enhance the mountain biking experience, fills in trail wash-outs and keeps a watchful eye on the security of the grounds.
Regardless of the weather, Applegate donates his time to care of the park at all times of the year. Beyond the park itself, Applegate is a role model for showing by example the difference volunteerism can make and the importance of community service to the parks.