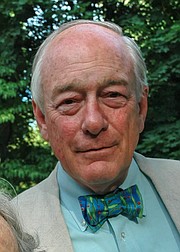 Alexandria native and real estate magnate Charles Hooff III, principal broker of the firm that bears his name, died Feb. 1 at the age of 80.
Charles Rapley Hooff III was born in Philadelphia on April 21, 1940, to Charles R. Hooff, Jr. and Elizabeth Dunn Hooff. He grew up in Alexandria, attended Episcopal High School, and graduated from George Washington University. He married Gudrun Kuelps Hooff in 1967 in Taipei while working overseas for Air America.
As Managing Director and Principal Broker of Charles R. Hooff, Inc, Hooff developed and managed residential and commercial properties. The most significant of his projects was the redevelopment of the Torpedo Factory complex, a mixed-use project of over 100,000 square feet of municipal use, a food court, a 200-car garage and 120 condominium units.
Charles R. Hooff, Inc. was established in 1929 by Hooff's grandmother, Sarah Carlyle Fairfax Herbert. His father helped establish the cooperative multilisting service that was widely used by Northern Virginia real estate brokers.
Hooff, whose family has direct lineage to Lawrence Hooff and John Carlyle, was an active member of The Jamestown Society, The Metropolitan Club, The Life Guard Society of Mount Vernon, The Old Dominion Boat Club, The Fraternal Order of Eagles, The Society of Colonial Warriors, and The Alexandria Businessmen's Club. He frequently hosted friends from each of these organizations at his Belmont Bay farm in Lorton.
Hooff is survived by his wife of 53 years, Gudrun Hooff, his four children, Maremi Andreozzi (Phil), Churchill Hooff (Jennifer), Janney Jay (Willy), Carlie Casella (Dan), 12 grandchildren and sister, Caroline Norman (Jim).
In lieu of flowers, donations may be made in his honor to St. Paul's Episcopal Church, 228 S. Pitt. St. Alexandria, VA 22314, or The Cheetah Conservation Fund at https://cheetah.org/donate/. Services were private.