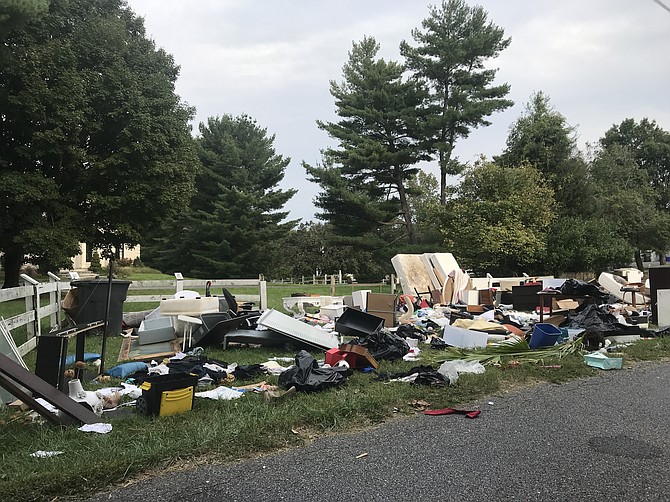 A "tsunami of evictions is on the horizon," said Gabe Albornoz, at-large councilmember, at a session on Covid Rental Relief and Eviction Prevention on Feb. 11, 2021. "There are literally hundreds in the queue right now, and as soon as the emergency declaration is lifted by the governor a shot clock will begin."
"The number of families in the queue is rising by the day," said Albornoz.
In fact, 14,000 failure-to-pay rent cases are waiting to be heard by General District Court judges, said Frank Vitale with Maryland Legal Aid, Montgomery County Office.
"Tenants, unfortunately, are in the position that even with aid from the county or a non-profit or a friend or a church or something, the rent owed is too high to make up," said Vitale.
"People need money, yesterday," said Andrew Friedson, Potomac's councilmember.
FAMILIES ARE BEHIND in rent payments by as much as $10,000 to $12,000, and 9,037 applications were received by the county last year asking for help; the average amount owed by households who applied for pandemic assistance was $3,360.
"This amount was at the time of application," said Amanda Harris, of the Department of Health and Human Services. "So by the time we're seeing them, that arrears has gone up significantly."
The COVID-19 Rent Relief Program provides short-term rental assistance to eligible households who have lost income due to the COVID-19 pandemic and caused them to fall behind on their rent. While funds are available, the program will provide up to $4,000 to help each eligible household. The program is funded through a $20 million supplemental appropriation to the Department of Health and Human Services (DHHS).
Approximately 17 percent of the applicants were new to Health and Human Services, said Harris.
About 13-15 percent of renters are behind on rent, according to councilmember Evan Glass.
"We're talking about some of the same people who have been hit the hardest due to the economic reality of this pandemic," said Glass, who leads the Council's efforts on preventing homelessness.
Once rental protections expire and courts are fully reopened, Glass said, "The work we are doing is to prevent that cliff from coming as best as we can, or at least to limit its impact."
"We know this is going to be a big undertaking, a tragic one, quite frankly," he said.
MORE THAN $12.1 million of $20 million of federal support from last year's CARES Act has been used to help 3,103 households, so far, but more households are in need.
Conditional approvals have been awarded to 379 households and more than 1,213 more applications have been assigned for processing.
Harris, of homelessness prevention, expects approximately $18 million will have been distributed by the end of February, even though it has until the end of the calendar year to distribute the funds.
The Council's Health and Human Services and Planning, Housing and Economic Development committees unanimously approved the motion for the full Council to approve a $31 million allocation from the Department of Treasury's Emergency Rental Assistance Program that was announced in early January.
The full Council is expected to approve the $31 million allocation on Tuesday, Feb. 23, after The Almanac's presstime.
"24,000 eviction notices that have gone out; I would consider that to be still quite a lot of evictions during what I thought was an eviction moratorium."
— Evan Glass, councilmember (at-large)
THE SHERIFF'S OFFICE is responsible for overseeing eviction processes. In 2020, 24,358 eviction cases for failure to pay were filed by landlords in General District Court, 3,022 eviction orders signed by judges (writs of restitution) were received by the Sheriff's Office, and 235 evictions were conducted.
For comparison: In fiscal year 2019, 48,922 eviction cases were filed in Montgomery County District Court for failure to pay rent and the Sheriff's Office received 11,927 eviction orders, according to the Sheriff's. The Sheriff's Office oversees evictions, a two-three month process, said Capt. Robin Lewis. About 938 households were evicted in FY 2019.
"Clearly the numbers you just shared, 24,000 eviction notices that have gone out, I would consider that to be still quite a lot of evictions during what I thought was an eviction moratorium," said Glass.
During the pandemic, evictions proceeded only for breach of lease, tenant holding over, and forcible entry cases, said Lewis.
"If those are three big categories for what can move forward, it seems that anything can move forward. It's just the will of the landlord, the discretion of the landlord," said Glass.
Vitale explained that there is a phasing system to keep the number of cases, and people, down during COVID health concerns. Typically, hundreds of people pack the courtrooms and hallways, he said.
"Many tenants believe that the CDC order or other orders completely prevent any evictions from going forward, which obviously it doesn't," said Vitale.
The Centers for Disease Control and Prevention (CDC) moratorium on evictions due to COVID income loss ends March 31, 2021. "It is unclear when the Court will reopen to all landlord tenant cases and how quickly failure-to-pay rent cases will be heard once the court re-opens," according to county documents.
"Moratoriums are certainly helpful, the CDC order has been helpful for our clients and other tenants, but it isn't the wonderful shield that some people think it might be," said Vitale.
"Our priority is to keep as many people housed as possible," he said.
MORE THAN 2,500 households are currently on the waitlist to receive help from the new $31 million allocation of federal help.
"We will go to the waitlist first," said Harris, chief of county Services to End and Prevent Homelessness. She said the county expects to spend 65 percent of the $31.4 million in the next six months.
The average age of people applying for assistance is 40 and 67 percent of the applications were from women. "We know that single family households are more likely to get evicted, so we were quite pleased to see we are reaching that population," said Harris.
About 88 percent of applicants were people of color (44 percent Black, 38 percent Hispanic, 4 percent multiple races, 3 percent Asian).
The monthly income of 42 percent of households requesting help is less than $1,000, less than the average monthly rent of those requesting help.
"This speaks to the need of providing longer term assistance," said Harris.
"We are going to need a serious moratorium and period of forgiveness, I think, at the tail end of this to allow people even a chance to make alternative arrangements," said Will Jawando, at-large councilmember.
"The challenge we all have is this question of how do we get the money out as quickly as possible and make sure we're getting it to the people who need it the most. It's not an easy dynamic," said Friedson.
GLASS ACCOMPANIES staff from Health and Human Services to identify people sleeping outside and sleeping in shelters and the county invests in hotels and shelters to provide support and temporary housing.
Even during the pandemic, the county reported a 72 percent decrease in family homelessness. "This investment in eviction prevention and homeless prevention is certainly having an impact on families," said Harris.
Any one eviction can have an enormous toll on families, especially children. "Preventing evictions, housing stabilization and minimizing the effect these have one families, and children in particular, is a huge concern for us,'' said Vitale.

But sometimes people, because of stress and anxiety and mental health, "just don't don't do anything, just don't ask for assistance until it's too late," said Harris.
"Not every eviction can be stopped," she said.
Get Help
The COVID Rent Relief Program is now closed but if you have already applied, the county will continue to work on your application. You can add yourself to the waitlist to be contacted when additional funds become available: https://forms.montgomerycountymd.gov/f/CRRPwaitlist
See additional resources at https://www.montgomerycountymd.gov/DHCA/covid-19/eviction_process_and_renters.html