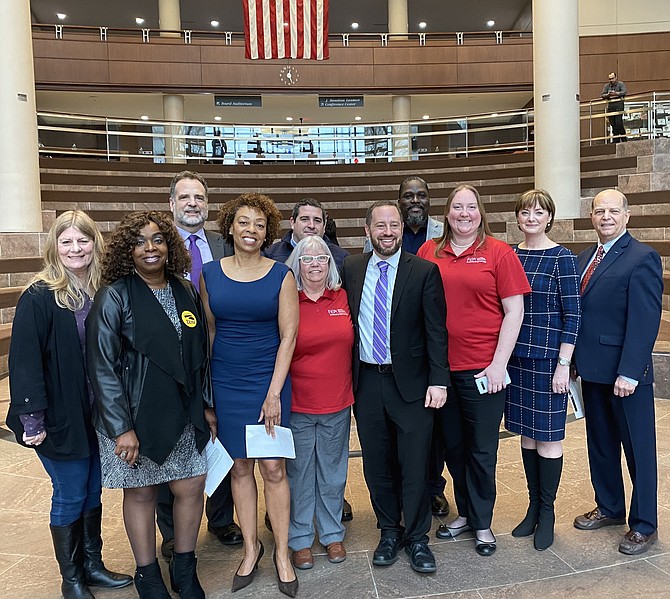 "We expect improvements in wages for all employees in every department: schools, fire and rescue, police, libraries, parks, health and human services... In the end, it will be up to our locality to fund the difference," said Kimberly Adams, President, Fairfax Education Association at a press conference held immediately after Fairfax County Executive Bryan Hill presented his FY 2021 Advertised Budget to the Board of Supervisors on Feb. 25.
Adams and other leading members of the grassroots community coalition, Invest in Fairfax assembled in the forum of the Fairfax County Government Building. As frontline county employees, teachers, first responders, veterans and others, they called on the Board of Supervisors to work with them and the public to pass a budget which invested in Fairfax County and continued to make progress on collective goals.
The budget focuses on board priorities, including school readiness, affordable housing, environmental stewardship and education, and aligned with the priority outcome areas identified during the development of the Countywide Strategic Plan.
The Advertised Budget Plan includes a three-cent increase in the Real Estate tax rate; a new 4 percent admissions tax on the sale of movie, theater, and concert tickets; overall increase of 3.65 percent, providing an $85.52 million increase over last year's school transfer, but short $89.70 million the amount requested by the School Board. The budget funds increased compensation for County employees, including performance/merit/longevity increase and a 2.06 percent market rate adjustment. The budget also funded other Board priorities such as Early Childhood Education, Environmental Initiatives, Diversion First, Opioid Use Prevention efforts, Body-worn cameras, new Police and Fire positions, Library hours and more, according to fairfaxcounty.gov.
The proposed tax rate increase of three cents would bring the rate to $1.18 per $100 of assessed value and result in an average annual tax bill increase of approximately $346.
But homeowners will see a bigger increase because countywide residential real estate assessments are up an average of 2.65%, with the average assessment for all homes at $580,272.
David Edelman, statewide President of SEIU Virginia 512 and volunteer for Invest in Fairfax, said: "I think that there's a lot that we will be pleased with this Budget...I think that the plan, really supports many of our different priorities, especially with the three-cent tax increase…There may be some things that happened down in Richmond, like the county tax equalization that could allow us to fund our priorities if we broaden our tax base without raising the real estate tax. We also really appreciate how the schools and the County are working together to come very close on the Budget. I think that overall the County has worked a great deal to fund our priorities. We are also very interested to hear more about the strategic plan as it begins to roll out."
Members of the coalition spoke on behalf of the organizations they represent. While there was much information to digest, as Edelman said, each coalition member urged the Board of Supervisors to invest in Fairfax. Edelman said it was "a long trail" to May 5, when the Board of Supervisors would adopt the FY 2021 budget and tax rate, including transfer to Fairfax County Public Schools, but the coalition appreciated the opportunity to provide feedback.
Jane Miscavage, President of the Fairfax County Council of PTAs: We appreciate the Advertised Budget proposed by County Executive Bryan Hill, which provides full funding to Fairfax County Public Schools...With support from Mr. Hill and the Board of Supervisors, our schools will continue to serve as a shining beacon of the Commonwealth of Virginia.
Tammie Wondong, SEIU Virginia 512: We call the Board of supervisors to work with us to pass a budget, which invests in Fairfax by investing in public services and the employees who provide those services.
We are pleased to see that the proposed Budget fully funds the union pay plan are hardworking county employees. We call them the Board of supervisors to make sure that the final Budget is funded and also work to lower healthcare costs.
Chauncey Houston, Veteran and local resident: As a 24-year veteran of the Air Force, I know how important it is that our military families live in strong and vibrant communities. We need a budget that invests in the education, health care and transportation needs of the many active-duty military and veterans who call Fairfax home.
William Barfield, President, Fairfax County Federation of Citizens Associations: One persistent issue facing Fairfax residents is the archaic reliance of the County on real estate taxes to obtain almost all of its revenue. In other words, homeowners themselves bear the burden of supporting our wonderful County. With a county population reaching 1.2 million, all held together by an entangled infrastructure, Fairfax resembles more a city than a county. The Commonwealth's distinction between cities and counties no longer makes sense.
For five years, the Federation has supported giving the revenue-generating authority to counties that cities already have. For example, cities can levy taxes on lodging, cigarettes, admissions and tobacco products. Why shouldn't Fairfax County have that same authority to diversify its tax base?
Tina Williams, Fairfax County Federation of Teachers: Our members have identified key areas that must be improved to recruit and retain diverse, talented educators and ensure our students are thriving. These areas are: improving resources for student behavior and discipline, improving the school counselor ratio to 1:250, increase teacher planning time, fixing substitute shortage and increasing educator wages. Fairfax County educators make less than their counterparts in neighboring counties. This is unacceptable as one of the wealthiest counties in the country. If we don't fix this gap, we will continue to lose highly qualified educators to our neighbors.
Kimberly Adams, President, Fairfax Education Association: We appreciate the attention to the values encapsulated in One Fairfax. The most critical item that this Budget must fund is people. We must not just refer to the simple phrase "living wage" but also instead focus on a "truly livable wage." In Fairfax County, we acknowledge that it costs more to survive here. We expect this Board of Supervisors to work on shaping the County Executive's Budget into a document that truly addresses this need to adequately compensate employees."
Sean Corcoran, president, Fairfax Coalition of Police, Local 5000:
Exceptional public service takes continuous investment...Overall the Board has done a decent job of meeting that investment, and we are thankful for the Advertised that we are seeing the full pay plans... But also of concern is... we need to not just look at the things that maybe the community sees as being important, such as oversight mechanisms, we also need to understand that there are severe critical needs within the department itself, especially when it comes to staff. We do need to address those things. We just had an increase in our staffing across the Board. Our major Crimes Bureau has been incredibly overworked and understaffed for a number of years...putting an incredible burden on our, our officers.