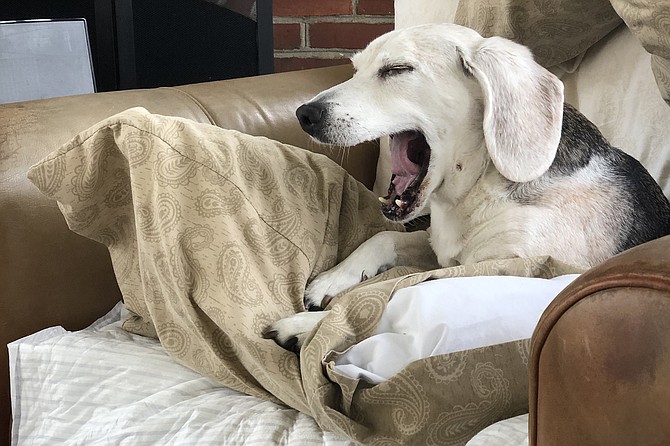 Staying with my in-laws has not been without its, well, puddles. Last week I reported that Hank, our elderly beagle, had lifted his leg and peed on my mother-in-law's dining room rug, as she looked on. Not a pretty moment. But we got through it.
Then, last week, he jumped onto the couch I have been using as a bed, lifted his leg and before I could stop him, peed again. Eighteen-year-old Hank has Cushing's syndrome, which can cause uncontrollable peeing, but it has been successfully managed by medication for about six months. Two "accidents" in about a week was not a good sign. And as bad as it would have been at home, it's certainly not fun when your dog is peeing on someone else's things.
My in-laws first learned of the second infraction when they read my column. I breathed a sigh of relief as my mother-in-law laughed the entire way through.
Hours later she quietly suggested that I put pee pads down on any soft surface Hank might decide to spend time on, which I did. Thankfully, beloved Hank was not kicked to the curb.
I've spoken with his vet and his numbers from a few weeks ago don't indicate that a medication adjustment would be appropriate for the Cushing's. So it looks like I'll be chasing after the beagle with a Tupperware container to capture a urine specimen. A urinary tract infection would be less serious than a rapid progression of the disease, so fingers crossed.
Our vet told us last August that if Hank was still with us in August 2021, it would be amazing. So we consider every day with our little rescue beagle to be a gift.
ArPets is a weekly feature for highlighting the well-loved pets of Arlington as well as animals who are available for adoption. If you or your dog, cat, iguana, bunny, rat or any other pet, has an interesting pet story to tell, send email to: joan@joanbradyphotography.com. Joan is an award-winning Connection Newspapers columnist and local photographer specializing in pets, children and families and contemporary business portraits.