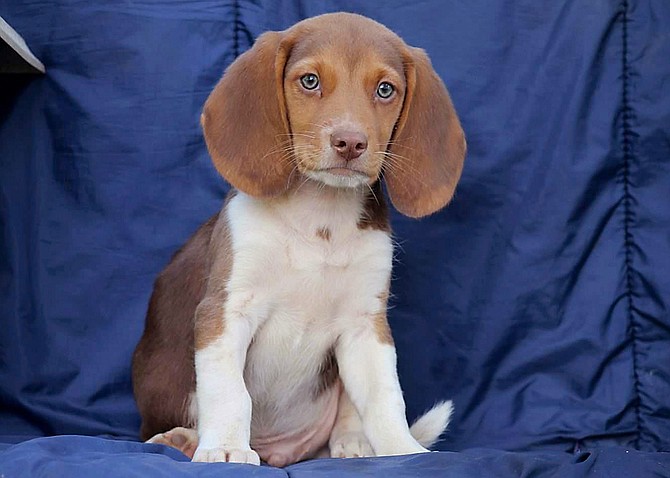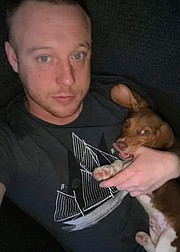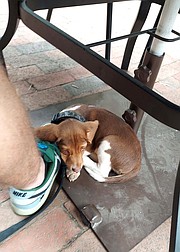 Beagle on the loose! If you have ever had your canine slip a leash, you know that split second of heart-freezing panic, followed by an adrenaline rush usually felt while watching movies like "The Texas Chainsaw Massacre." When it happened to Erik Fuller, he knew he needed to act fast. Reflecting on that moment when Jake the beagle made his escape, Fuller says, "Honestly thought he was going to become a beagle pancake."
The weather that February night was horrible with snow and slush. Cars flew by, spraying that cold mess as they sped to their destinations. "I ran into the road to stop [the cars]... yelling and waving my arms," says Fuller. All the while, Jake thought this was a fabulous new game, and scampered well out of reach.
Jake had been part of Fuller's family for about a month. Having moved into a building that welcomed canines, Fuller was picturing himself happily walking a dog and enjoying the company of other dog owners. He had been heavily influenced by a neighbor who has a wonderful beagle. She was very encouraging about the breed. Her beagle, it's worth pointing out, is well past puppyhood. That difference would lead to a hard lesson.
Fuller did his research and rented a car for the drive to Buckingham, Va. to pick up his new puppy. It's easy to imagine the joyful ride home with Fuller at the wheel and the new puppy snoozing in the back seat. Fuller even called his grandmother from the car to share his excitement.
Unfortunately, the scene didn't remain perfect for long, as Jake defecated all over the back seat of the rental car. This unfortunate incident left poor Fuller with a veritable poop-fest to deal with and a grandmother who breeds dobermans in Michigan yelling through the car speaker, "TURN AROUND AND TAKE HIM BACK."
Fuller pulled over and cleaned up the disaster. He was committed. And Jake happily spent the rest of the trip sleeping in his lap.
It's definitely been a challenging transition to have a puppy, and a beagle puppy at that. Jake is apparently pretty mischievous and needs to be watched constantly. No cord, cable or roll of toilet paper is safe from his teeth. And ever a beagle, Jake has a knack for accessing even the most well-hidden food.
But even with all that, Fuller loves him dearly. Jake is "friendly with people and children and trustworthy not to cause trouble with other [dogs]." Fuller says, "His personality is hilarious. He follows me wherever I go. ... I've formed a strong attachment to him. He's my best friend."
And Jake loves living in Arlington, enjoying the many parks and having so many dogs to meet and sniff. The Ballston Barber Shop is a favorite for the love and treats lavished upon Jake while Fuller gets his hair cut.

But that fateful night, Jake was saved by Fuller's quick action and the many good Samaritans who stopped to help. It was rush hour, already dark and the roads and sidewalks were slick with sleet and snow. Jake was crossing back and forth on Glebe Road. Fuller estimates seven people got out of their cars to help, putting their own safety at risk to capture the playful beagle.
One guy dove into a bush, only to have Jake slip out of his grasp. Finally, the group cornered him and a woman was able to grab hold of the adventurous beagle. It may have been just 10 minutes or so; Fuller said it felt like forever. Fuller knows that without help from so many strangers on that stormy night, he was unlikely to have kept Jake from harm.
And so, to all those who helped Jake live to see another day of beagling, Fuller says, "Thank you and God bless everyone. I believe what comes around goes around."
Adoption Resources
If you are interested in adding a cat, dog or small animal pet to your household, here are a few local rescue organizations who might be able to help you find your perfect match:
Animal Welfare League of Alexandria
Animal Welfare League of Arlington
Lost Dog and Cat Rescue Foundation
ArPets is a weekly feature for highlighting the well-loved pets of Arlington as well as animals who are available for adoption. If you or your dog, cat, iguana, bunny, rat or any other pet, has an interesting pet story to tell, send email to: joan@joanbradyphotography.com.
Joan is an award-winning Connection Newspapers columnist and local photographer specializing in pets, children and families and contemporary business portraits.