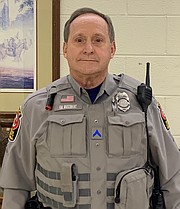 Police Officer First Class (PFC) Richard "Rick" Whisenhunt has been selected as the Sully District Police Station's 2020 Officer of the Year. He was honored at the Feb. 10 meeting of the station's Citizens Advisory Committee.
Nominating him for this award was 2nd Lt. Brian Calfee. And in his write-up, he explained several reasons why Whisenhunt was deserving of this special accolade.
"PFC Whisenhunt has consistently exhibited an incredible amount of dedication, hard work and passion for police work that deserves recognition as the Sully District Station's 2020 Officer of the Year," wrote Calfee. He then elaborated on the officer's long career devoted to keeping the public safe.
When Whisenhunt graduated from the Fairfax County Criminal Justice Academy, he already had three decades in law enforcement under his belt. Prior to coming here, he worked for eight years as an undercover agent for the North Carolina State Bureau of Investigation. He then served as a unit and section chief with the Drug Enforcement Administration (DEA) for 24-1/2 years.
So when Whisenhunt joined the county Police Department, it was a continuation of his long career in law-enforcement and the start of a new chapter with a different branch. But this time, the emphasis was on community policing.
AFTER GRADUATING from the academy in February 2015, Whisenhunt was assigned to the Sully District Station Midnights B shift and has remained there ever since. In that capacity, wrote Calfee, "He has proven to be a tireless and consistent workhorse, making the community's roadways safer by focusing his efforts on taking impaired drivers off the road."
Stressing how "incredibly dangerous" driving under the influence of drugs and/or alcohol is for everyone on the road, Calfee noted that, in 2019, Fairfax County had 413 alcohol-related crashes. Seven of them were fatal, and 32 involved serious injuries. The Sully District had 72 alcohol-related crashes, one with a fatality and six with serious injuries.
"In the past four years – to help stop these crashes from happening – Whisenhunt has taken 95 drunk drivers off Sully's roadways," wrote Calfee. "This total includes 13 arrests in 2017, 27 in 2018, 27 in 2019, and 28 in 2020. Currently, he leads the Sully District Station [in drunk-driving arrests] and is the fifth-leading officer in Fairfax County for DWI enforcement."
Besides that, Calfee described Whisenhunt as "a well-rounded officer who also balances his passion for DWI enforcement and education with community policing. He has often assisted his squad members with domestic disputes or runaway juveniles, due to his knowledge and experience with so many community members in the Sully District."
"Throughout his shift, Whisenhunt will be seen initiating traffic stops and providing his full attention in enforcing the traffic code," continued Calfee. "Yet at the same time, he'll also be busy assisting disabled motorists, giving help changing tires and, if needed, providing a ride home."
CALFEE said the value of getting to know so many community members is something Whisenhunt takes to heart. During each opportunity he has to speak with local residents, wrote Calfee, "He takes time to interact with them, provide genuine advice if needed, and get to know them." In his free time, he even enjoys volunteering with a local Boy Scout troop.

"These are but a few examples of PFC Whisenhunt's work that are a benefit to his fellow officers, the Sully District and Fairfax County," added Calfee. "For his tireless devotion to traffic safety and the community, he deserves special recognition, and we proudly honor him with the Sully District Station 2020 Officer of the Year Award."