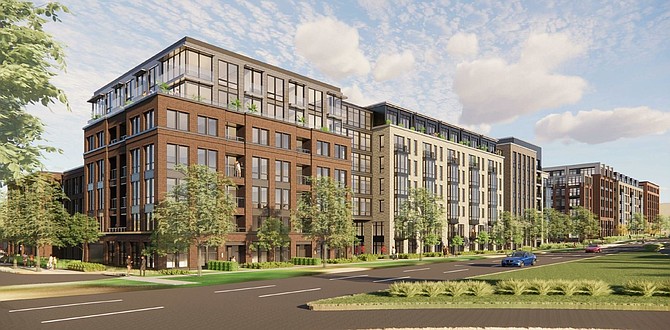 The controversial Heritage at Old Town development project will move forward following unanimous approval by the Alexandria City Council at its Feb. 20 public hearing.
Despite reservations expressed by some Council members, the addition of new affordable housing units was the determining factor in the decision to give the green light to New York-based Asland Capital Partners to develop several blocks in the Southwest quadrant of Old Town.
The Heritage has generated intense public debate regarding the height and density of the project, which consists of three new buildings up to seven stories high with 750 units. The Board of Architectural Review last summer described early renderings of the project as "lipstick on a pig."
The project has been criticized by many residents who raised concerns over the impact the project will have on the community. During the public hearing, Council members shared some of those concerns including increased traffic at the already congested intersection of Gibbon and South Patrick streets, minimized parking, school capacity, stormwater and sewage infrastructure, and the height and unit density of the proposed buildings.
"It's a mega-sized environment being placed on a footprint that is much smaller than what we are about to put on it," said Councilwoman Amy Jackson.
Asland Capital Partners acquired the 136,800 square foot campus, originally built in 1978, in November of 2019. The project will increase the existing 244 units to 750 units, reduced from the original proposal of 842 units. The Heritage extends west from S. Columbus Street to S. Patrick Street and south from Wolfe Street to Gibbon Streets.
At present, The Heritage consists of 140 affordable housing units and 104 market rate units. The new development will increase to 195 the number of affordable housing units while market rate units will increase to 555.
Proponents of the project, including Councilman John Taylor Chapman, focused on the city's need for increased affordable housing.
"This is an opportunity for the city to save housing in this area," Chapman said. "There are issues in that neighborhood with stormwater and traffic but it needs to be on us to make those areas ready for development."
Added Councilwoman Del Pepper, "We desperately need every affordable unit we can get."
Prior to the Feb. 20 public hearing, 173 letters and emails were sent to council members with 42 speakers registered to comment on the project. Many were in opposition to the project, questioning its appropriateness for Old Town.
"Tell this developer to go back to the principle of the South Patrick Street Affordability Study and …. produce a project that respects the character of the historic district," said Gail Rothrock of the Historic Alexandria Foundation.
Despite her concerns, Jackson joined her fellow council members in voting to approve the project.
Developers will return to the BAR to review the architecture and design of the buildings with initial relocation of existing tenants slated to begin in November 2021.