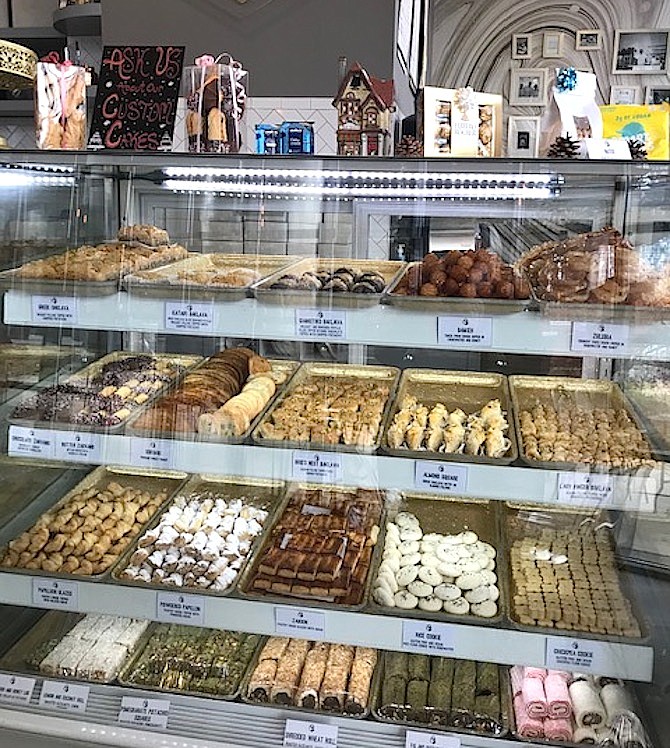 This tiny, classy destination, Classic Bakery, is a hidden treasure among the numerous store-front businesses and big-box stores that make Tysons Corner a popular destination. Although there is limited indoor seating, outdoor tables are open for warm weather, and the ease of takeout for local folks surely contributes to its draw to those who love great food.
Of course, baked goods are part of the name, and patrons might get shocked at the huge assortment of cookies, muffins, croissants, cakes, shortcakes and the staggering number of specialty cakes on display. In fact, to the right side of the checkout counter is a glass case filled with shelves of luscious and tempting cakes….too bad that each is really too large for a personal dessert right after their in-store lunch.
Another draw is the store's array of coffees. Not only does staff offer regular drip coffee and hot tea, but coffee aficionados can sip cups of espresso, cappuccino, latte, and several flavored versions of the standard offerings. How about a cup of latte macchiato or espresso macchiato? On offer, too, are Armenian coffee and affogato espresso, plus chai latte, pistachio rose latte, and assorted iced drinks. Of course, soft drinks and water are available, too.
But it is the food menu that really attracts. Early-morning workers can drop in for a sit-down or pickup from among five choices: a bagel; oatmeal; an organic yogurt parfait; an egg-and-cheese sandwich; or an egg white dish with spinach and feta cheese. It helps locals that the weekday hours run from 7 a.m. to 7 p.m. That way, any time hunger strikes, the Classic Bakery offers so many treats.
For patrons dropping by for lunch or an early supper, Classic Bakery offers a diverse sandwich menu, with some of the offerings rather unusual, such as the turkey, brie, and cranberry sandwich (which is likely seasonal) or the toasted pesto caprese. More familiar and equally yummy are the tuna salad and chicken salad sandwiches on a croissant and the grilled cheese with bacon, cheddar, Gruyère, and Swiss on whole grain bread with an option to order a bowl of tomato soup alongside.
Regardless of when anyone stops in, a sampling of pastries is a must. The chocolate-filled croissant is delicious, but the final choice or choices must come after studying the glass-covered display case. With so many options, probably the best step to take is to order a box of several or many sweet treats, and head home to splurge.
Classic Bakery 8605 Westwood Center Dr., Suite 150, Tysons, 703-992-7807. Hours: Mon.-Fri., 7 a.m. to 7 p.m.; Sat., 10 a.m. to 7 p.m.; Sun., 10 a.m. to 5 p.m.