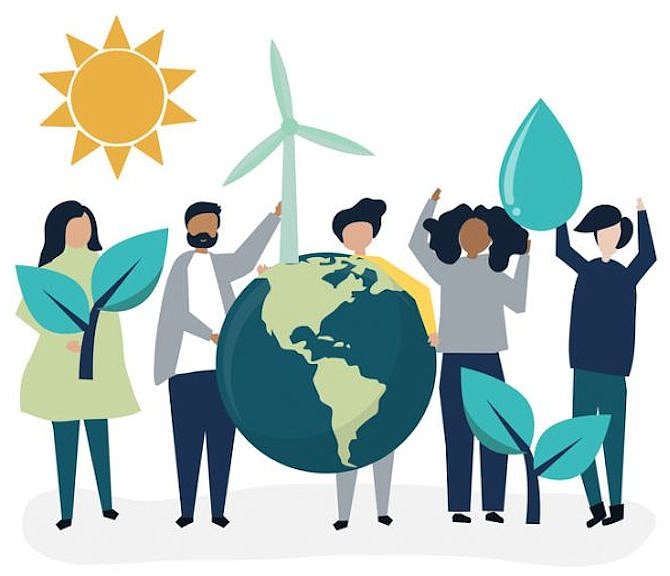 Montgomery County and the C&O Canal Trust have each announced art contests, open to all, to promote ongoing programs.
Information for each is below.
Competition Open to Artistic Climate Change Advocates
Montgomery County is hosting a competition for artwork to be featured in the county's climate action plan.
Art is an important tool that will engage all county residents from a variety of backgrounds. Through this contest, we hope to reach those who might not have previously been engaged in the climate planning process, especially those from marginalized backgrounds who will be disproportionately impacted by changes in climate.
The competition is open to students and county residents of all ages. Help us harness your creativity to sound the alarm about the climate emergency.
Submissions can be photos, drawings, poems, videos and original memes that invoke the need to protect the community from climate change.
Artists may submit work in any of the following categories:
Engage!—What is the connection between community and climate?
Sound the Climate Alarm!—Capture the emergency of climate change.
Adaptation and Resilience—How can our community adapt to a rapidly changing world?
Environmental/Climate Justice and Racial Equity—Capture the inequalities exacerbated by climate change and highlight the voices of the historically marginalized.
Future Vision of Montgomery County—What will the county look like in 2035 if it meets the greenhouse gas reduction goals in an equitable way? The contest encourages submissions of digital art to create future landscapes, concept art and your utopias.
The deadline is Sunday, Jan. 31, 2021. Winners will receive $100 and their work may be featured on the county's climate change plan and in other materials.
For complete rules, visit https://mygreenmontgomery.org/2020/calling-all-artists-and-climate-justice-activists/
Artwork Contest to Find New Canal Community Days logo

The C&O Canal Trust is conducting a t-shirt artwork contest to find a logo that will represent our 2021 Canal Community Days events. Amateur artists are invited to create and submit artwork that celebrates these annual volunteer events that bring community members together to beautify the C&O Canal National Historical Park for the spring season. The winning design will be printed on our Canal Community Days t-shirts and worn by volunteers as they work along the C&O Canal during the spring and summer months.
Formerly known as "Canal Pride Days," our Canal Community Days events are volunteer project days throughout the year that tackle the backlog of maintenance projects in the C&O Canal National Historical Park. During 2019, the Trust hosted more than 40 different events with over 1,000 volunteers, who were all vital in helping to maintain the 184.5-mile towpath and 1,300 historic structures in the Park. In 2020, with modified operations due to restrictions around COVID-19, we had 200 volunteers collect 2,000 pounds of trash in small groups. Our volunteers help keep our Park safe and clean for 5 million visitors each year.
How to Enter:
Submitted artwork should represent some aspect of the C&O Canal and the Canal Community Days concept. Each design must include the words "C&O Canal Community Days" and the year "2021". Please keep artwork to six colors or less, as printing color artwork on t-shirts can become expensive. The artwork will be used on either grey- or natural-colored shirts. Entries from both adults and children are welcome.
Entries should be submitted by February 19, 2021 to the C&O Canal Trust at photos@canaltrust.org or can be mailed to us at: Canal Community Days Artwork Contest, C&O Canal Trust, 1850 Dual Highway, Suite 100, Hagerstown, MD 21740. Please include your name, address, phone number, email address and age (if 18 or under) with your entry. If you are under 18, please obtain permission from your parent or guardian before entering this contest.
The C&O Canal Trust staff will select the winning entry based on visual appeal, the use of six or fewer colors, and the representation of the Canal Community Days theme. The winner will be notified by March 5, 2021.
The winner will receive a C&O Canal Trust prize pack that includes a one-night stay at one of our award-winning Canal Quarters lockhouses. Also, the winner's artwork will be printed on our 2021 Canal Community Days t-shirts, and the winner will be provided with three shirts to keep.
Winning artwork from past years, plus a full copy of the rules can be found here:
https://www.canaltrust.org/2020/12/community-days-artwork-contest/