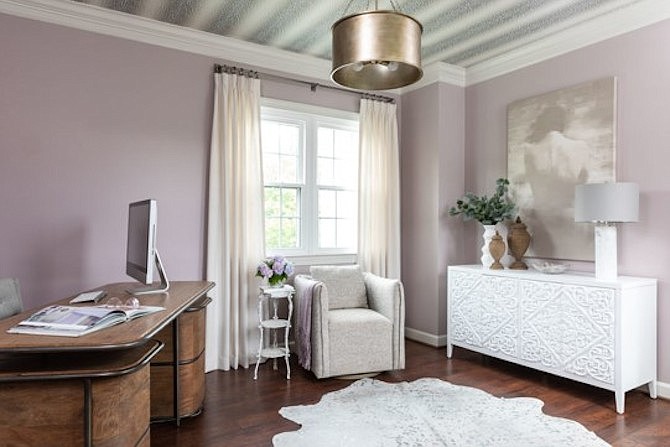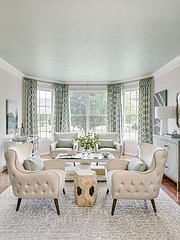 In the current times of turbulence and uncertainty, many are looking for a haven for serenity and calm. For some, a home's interior has become that place.

"We have a lot of clients that ache for a calm interior," said Sallie Lord of Grey Hunt Interiors, who recently designed two spaces to evoke such feelings.
For a client who derived serenity from time spent on the water, Lord designed a living room that is reminiscent of sand and sea. "We used soft tones in this room to create a sense of calm," she said. "On the ceiling is a subtle, soft blue-green fabric wallpaper that creates an elegant, by-the-water vibe. We even had custom art painted of the lake that the owner grew up by. It makes you want to dive in, grab a drink and relax."
As home offices have become more important than ever, Lord says has worked to marry functionality with relaxation. "One of my clients wanted us to create a space that inspired her, but that mainly calmed her," said Lord. "Her life is very busy and go, go, go and she needed a retreat to unwind."
Shades of lavender and white helped create that aesthetic. "We used wallpaper from the Vern Yips line of [textile manufacturer] Trend on the ceiling to give the space the spice and power that reflects her spirit, but calmed the room down with soft lavender walls, crisp whites, and soft textures, such as those used in her custom drapes. This room worked so well that she often finds her children in her space relaxing."