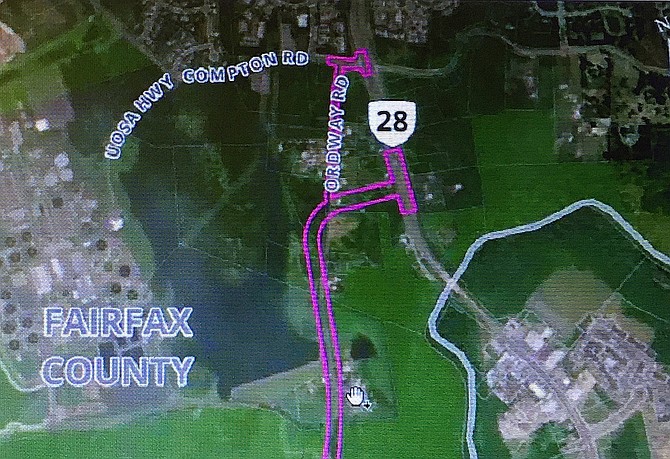 Imagine your neighbor decided to build a second garage and use your side yard for its driveway. He hasn't asked your permission, told you or your family about his plan or asked what you think of it. Would you passively let him do it, or would you ask questions and try to get him to work with you for everyone's benefit?
That's the position Centreville residents and Bull Run Regional Park find themselves in now, thanks to Prince William County's Route 28 Bypass project. Most people in Fairfax County haven't heard about this road or how it could affect them. But land-use groups here have, and they've got a slew of unanswered questions.
The nearly $300 million road – geared to reduce traffic congestion in Prince William – would cross Bull Run Creek and cut through Bull Run Regional Park in Fairfax County before connecting with Ordway and Compton roads in Centreville to link up with Route 28. Yet Fairfax County officials have made no objections to the serious impacts another county's project could have here – and haven't even held a public hearing about it.
Indeed – although Fairfax County's Board of Supervisors has known about this bypass for more than three years – the first, information session for residents here wasn't held until Dec. 7. It was hosted by Prince William County, in conjunction with Fairfax County's Department of Transportation (FCDOT).
Yet even then, because the meeting was virtual, participants couldn't see each other's questions and the hosts could pick and choose which ones to answer and which to avoid, altogether. They also weren't completely honest.
For example, on Dec. 7, Prince William Transportation Department Planning Manager Paolo Belita said that, to minimize impacts on Bull Run Regional Park, "We shifted [the bypass's] design to follow Ordway Road and away from the park, and we'll continue shifting it."
But at the Dec. 16 Sully District Council meeting, FCDOT Director Tom Biesiadny confirmed that some parkland will have to be taken for the chosen route. He didn't know how much, but he said more land would be needed than what's in Ordway Road's existing right-of-way.
ON DEC. 7, Northern Virginia Transportation Authority (NVTA) Executive Director Monica Backmon said Route 28 in Prince William carries 57,000 vehicles/day, so "We have to relieve the commuters' stress on this heavily traveled road." NVTA contributed $100 million toward the bypass's cost, with Prince William bonds funding the rest.
Saying the two counties will continue to coordinate, Belita said, "We're looking at how the design will impact Ordway at Route 28. This spring, we'll select an engineering-design firm."
Prince William Transportation Director Rick Canizales said the road will have four lanes total and, by 2040, should carry 60,000 county and regional vehicles/day. He said consultant Parsons "will look at environmental issues as the design moves forward and we better understand the impacts." He also said the project cost estimate included money for possible remediation.

"We'll look at traffic data for smooth traffic flow at the tie-in point, so [the bypass] can handle the traffic coming through the [Centreville] intersections," continued Canizales. "We estimate three traffic lights on the bypass, including at each end point."
A caller asked if this road is consistent with Fairfax County's Comprehensive Plan, and Biesiadny skirted the issue by replying that the Comp Plan "allows for adjusted alignments, so we believe there's enough flexibility in it to incorporate this solution." But, stressed another caller, "This bypass, specifically, is not on the Fairfax County Comprehensive Plan."
Noting that the tie-in will be south of the Compton/Route 28 intersection, another person asked, "What will happen to home values of those people with the bypass in their front yards or backyards?" Sidestepping the uncomfortable question, Belita simply said, "We'll take a look at that."
"If traffic volumes will rise, wouldn't this [bypass] bring more traffic to Route 28 [in Centreville] at the Fairfax County line?" asked another caller. Biesiadny answered that Fairfax County already plans to widen Route 28 there from four to six lanes, with an option for eight lanes in the future, should they be necessary.
Belita estimated the bypass will take two years to construct. Meanwhile, another caller asked if this project needs Fairfax County Supervisors' approval. "It's to be determined," replied Biesiadny. "The Board will have numerous opportunities to engage in the project."
"Have the Fairfax County communities and homeowners' associations closest to the tie-in location been notified of the possible impacts of this project to their neighborhoods?" asked another person.
Belita said the Dec. 7 meeting was the start of that process. And Biesiadny said those communities would be contacted so they can "engage in the project and understand the potential impacts on their property."
Besides, added Canizales, "We had some meetings in 2017. We're now starting the design process and a Request for Proposals to get the right people to do it. This aspect will last up to three years."
However, Centreville's Jim Hart called it "a slap in the face to suggest that a preliminary, VDOT 'mix and mingle' night in 2017 at Centreville Elementary is equivalent to the type of public hearing on the final route held by Prince William supervisors, years later."

CITING ANOTHER CONCERN, a caller said, "There are many plants and environmentally sensitive species in the tie-in area. How will you deal with them?" Again, Belita just said they'd "look at that."
Resident Jehanne Arslan emphasized that the tie-in site is also in a historic-resource area, is "upstream from the Occoquan Reservoir and has the potential to pose threats to the public water supply, both during and after construction."
But, answered Canizales, "This project went through many years of study with the stakeholders, and this is the route that was chosen."
When asked why Fairfax County has had no public hearings about the bypass – even though it could significantly affect Centreville residents – Biesiadny said, "It's 90 percent in Prince William County and it's their project. The Fairfax County Board of Supervisors will have input on the design."
Still, Hart – a former Fairfax County planning commissioner – found the whole situation "appalling and shameful, especially since past Fairfax County Boards of Supervisors had been so protective of the Occoquan and environment, and more sensitive to the importance of transparency and accountability. Fairfax County's role in this project was botched badly, at many levels.
"Prince William has no business approving a new bypass route in Fairfax County, not shown on the adopted Comp Plan and in an environmentally sensitive area. I find it shocking that Prince William supervisors would hold a public hearing for its citizens, to select an extraterritorial bypass route in Fairfax County – yet Fairfax County's leadership would avoid the issue and suggest that enough had been done already."
Indeed, the project Website, https://route28bypass.com/, clearly states, "The Fairfax County Board of Supervisors has not taken any action regarding this project." As a result, Fairfax County residents weren't given a chance to object to the final route or to express their concerns to their own, elected officials before this route was selected. They also weren't notified that another county would be making a decision that could affect them.
It's especially egregious, said Hart, because this bypass would be on land zoned Residential Conservation and would be uphill from the Occoquan Reservoir – which supplies Fairfax County's drinking water – with a new bridge in a floodplain and a new road going through a regional park.
Regarding transportation, he said, "We already have a tangled mess where Ordway, Compton, Old Centreville roads and Route 28 all tie together. None of how that snarl would be resolved is even hinted at on the Comp Plan, especially if you throw a new bypass into the mix there."
Calling the recent meeting "carefully choreographed," Hart said, "It's obvious Fairfax County's supervisors want no fingerprints on this and will do whatever it takes to avoid having a public hearing or taking a vote on the route. No accountability, no guts, no leadership."