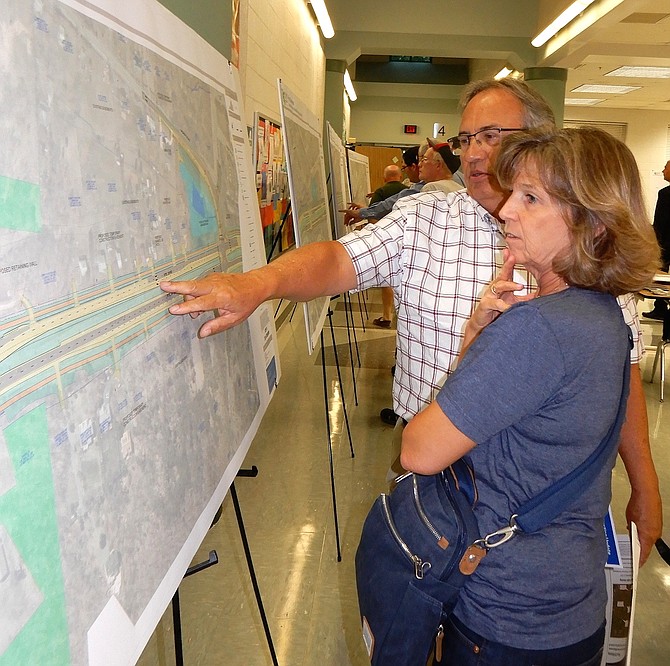 Even on a good day, driving on Route 28 in Centreville is no picnic – and things are even worse at rush hour. But an $86.7 million-dollar widening project will eventually ease the pain for local residents and commuters, alike.
Under the plan, Route 28 will be widened from four lanes to six, for about 2.3 miles, from the bridge over Bull Run at the Prince William/Fairfax County line to the Routes 28/29 Interchange in Centreville. Besides adding more through lanes to Route 28, the project will provide additional lanes on side streets to improve traffic flow.
It will also improve intersection operations, upgrade existing traffic signals and improve bicycle and pedestrian crossings. In addition, new, 10-foot-wide, shared-use paths will be created on both sides of Route 28.
About 60 residents heard about the latest, project updates at a recent, design public hearing at Centreville Elementary. Attendees perused several maps, listened to a presentation by Todd Minnix, chief of the Transportation Design Division of Fairfax County's Department of Transportation (FCDOT), and then got to ask him questions.
He showed slides of the various portions of the project area and discussed the turn lanes and other changes planned for: Route 28 south of Compton Road, Route 28 at Compton and Ordway Roads, Old Mill Road and Green Trails Boulevard, Darkwood Drive, New Braddock Road, Old Centreville and Upperridge roads, and Machen Road.

"The curves north of Compton Road and south of New Braddock will be improved for better sight distance, and Bradenton Drive will remain unsignalized," said Minnix. "Northbound Route 28 will be widened on the outside; and on southbound Route 28, the center line will be shifted over 5 feet so a future lane could go in the middle."
Due to lack of funding to do more, the road will just be widened to six lanes, but it's being designed for eight lanes in the future. And the noise analysis and environmental impacts are both based on eight lanes existing in 2040 at the loudest hour of the day.
UNDER THE PLAN, improvements would be made at all signalized intersections by adding turn lanes and/or one or more additional lanes on side streets. Doing so would eliminate split-phase, signal operations and improve overall intersection operations. Being proposed are:
Dual left-turn lanes on northbound Route 28 at New Braddock (which may not be needed/required);

Dual left-turn lanes on northbound Route 28 at Machen Road;

Triple left turns from westbound New Braddock to southbound Route 28;

Adding one lane on both westbound and eastbound Compton Road, eastbound Old Mill Road and westbound Old Centreville Road (at the north end of the project).
In addition, median crossovers at Darkwood Drive and south of Compton Road will both be removed. There'll be some right-of-way impacts on various parcels, but the land acquisition will be done for a road with all eight lanes, so it won't have to be done again later.
"We don't anticipate any demolitions of any homes or commercial businesses," said Minnix. "But some additional, utility easements may be needed."
Initially, four design options were proposed for the intersection of Ordway, Compton and Old Centreville roads. The engineers and many residents preferred Option Four, which would have realigned Old Centreville Road to a "T" intersection with Ordway, with a traffic signal. But due to financial constraints – Option Four would cost an estimated $15 million more – Option One was chosen. The most-affordable plan, it keeps Ordway's alignment the same and just adds the new lanes.
This is a county project being done in cooperation with VDOT and the Northern Virginia Transportation Authority (NVTA). And to get it accomplished as quickly as possible, a design-build process has been adopted. This method allows for more-rapid progress by combining and overlapping the design, right-of-way, utility and construction phases. As a result, many of the tasks are done concurrently, rather than one after another.
Since this project contains federal money, a proposal for noise mitigation is required for neighborhoods where the projected noise levels will exceed established criteria. But the residents must declare, in writing, that they want noise walls.
CURRENTLY, said Minnix, 26 buildings meet the excessive-noise criteria for sound walls, and this number would increase to 68 by 2040. As a result, two areas are receiving further evaluation for potential noise barriers. One is on the east side of Route 28, between New Braddock and Darkwood; the other is on the west side of Route 28, north of Compton Road.
Once construction is done, Minnix said drivers during the afternoon rush will be able to go from I-66 to the Bull Run Bridge in just 6 minutes, as opposed to 13 minutes now. "It increases to 22 minutes if we do nothing," he said.
The whole, road project is estimated to cost $86,748,000 and, currently, it's completely funded from the following sources:
• NVTA Regional Funds - $26 million;
• State Revenue Sharing Funds - $10 million;
• State SmartScale Funds - $23,422,583;
• Federal Demonstration Funds - $ 9,407,418; and
• Local Funds -$17,918,629.
The road is expected to be constructed and open to traffic by spring 2023. But if all goes well, three lanes of traffic should be open in both directions – minus landscaping, cleanup and final details – by December 2022.
At the meeting, Carol Hawn, of Centreville's Old Mill community, was concerned that her neighborhood might lose its fence. Minnix said it wouldn't and noted that "The trail between the fence and road will be rebuilt, brought up to standards and extended all the way to New Braddock Road."
Neighbor Hal Payne said, "There's no crosswalk at Old Centreville Road and New Braddock, so my children can cross the road to get to school." And he asked if one was planned there.
"Our project doesn't go all the way back to Old Centreville Road, unfortunately," replied Minnix. "But three areas will have crosswalks and median refuges to wait while traffic passes."
Little Rocky Run's Al Francese asked how rush-hour traffic would be handled during construction, and Minnix said there'll be "No lane closures during rush hours. But there'll be lots of night work, with message boards about lane closures and detours."
Regarding the Compton Road/Route 28 intersection, said Francese, "Exiting Compton, as you approach Route 28, it's difficult to tell which lane you're turning into. Can you put in some markings or infrastructure?" Minnix said a raised, concrete median between Ordway's north- and southbound through lanes is proposed.
Resident Jonathan O'Neill asked if the project would have any impact on Centreville Elementary, and Minnix said no. He also said that requests for proposals were already sent to three design-build firms and, "If their bids come in lower than we anticipate, we could revisit Option Four."