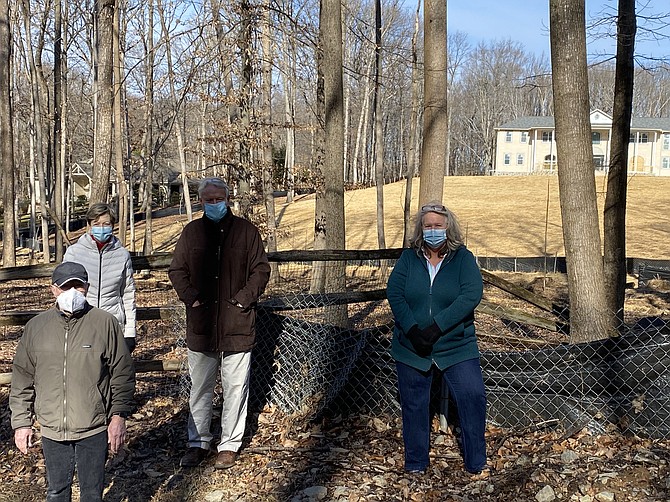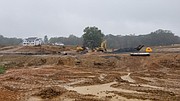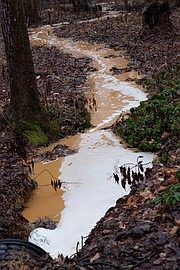 Members of Great Falls Citizens Association (GFCA) believe development pressure and environmental concerns are no longer balanced, shifting away from recognizing the importance of environmental protection.
Jennifer Falcone is Chair of the GFCA Land Use & Zoning Committee. On behalf of GFCA, she submitted two documents to the Fairfax County Environmental Quality Advisory Council (EQAC) for consideration during their Annual Public Comment Meeting on Jan. 13, 2021. The purpose of the electronic meeting was to solicit views on the state of the environment and identify environmental issues of concern applicable to Fairfax County.
In Falcone's two and a half-page written testimony to Stella Koch, Chair of EQAC, dated Jan. 8, and her Executive Summary, read aloud by staff during the meeting, Falcone addressed three critical environmental stewardship concerns in Great Falls, stormwater management, preservation of the County's tree canopy, and light pollution.
Falcone said in the letter to Koch: "The approval of future residential development within the County requires stricter oversight and a sharper focus to be placed on environmental issues by Fairfax County officials and appropriate increases in budget...We hope that EQAC's voice will be heard clearly."
According to an email by Peter Falcone, GFCA Communications, the issues GFCA conveyed to EQAC were typically identified during the year through "the work of GFCA's Committees, investigations of complaints received from citizens bearing on environmental problems and arising out of initiatives suggested by members of its Executive Board and leadership."
ON BEHALF OF GFCA, Jennifer Falcone first discussed development and stormwater management in her letter to Koch. According to Falcone, GFCA observed that the current system fails to meet the community's needs and the County's objectives. She advised EQAC to petition the Board of Supervisors to bolster current stormwater management policies, regulation, and oversight. She said that GFCA documented instances of failure in its community directly involved with land development. Storm water is water from rain or snow melt that does not soak into the ground.
"We have observed evidence of pollution of neighboring lakes, streams and erosion of soils and land beyond the areas of development...This lack of effective stormwater management is compounded by (the) impact it has on the Potomac River Basin and, by extension, the Chesapeake Bay Watershed...There is concern that "grandfathered" projects (some approved as far back as 2006, in accordance with state mandate) will go forward with stormwater management standards that do not meet or even approach the current level of performance. This grandfathering even applies to state-funded projects such as the relocation of the Colvin Run stream along Route 7, allowing the Commonwealth of Virginia to avoid the more stringent policies enacted a few years ago," said Falcone.
Falcone advocated for stricter state administrative law changes to the Virginia stormwater management regulations, including "eliminating or reducing the period for which grandfathering of site plan approvals of any land-disturbing activities may be permitted." "We urge EQAC to advocate for such changes," she said.
Secondly, Falcone focused on Great Fall's disappearing tree canopy and preservation. She said while adopted land development practices follow "clear cutting of parcels and re-landscaping consistent with County land disturbance policies," developers remove mature trees to provide a more significant landmass for development. She noted that GFCA has documented instances where developers, contrary to County-approved plans, clear-cut sites, destroying wildlife habitats and causing erosion.
"The Council is urged to recommend strengthening County oversight and inspection of this aspect of land development," she said.
Finally, Falcone reviewed light pollution. In a two-fold action, she urged EQAC's support to adopt the languishing 2020 Dark Sky Preserve Ordinance to surround the County's Observatory in Great Falls. She noted that development is being proposed within the half-mile circumference of the observatory state law establishes for such a preserve.
FALCONE also brought attention to the need for the County to revisit outdoor lighting restrictions due to non-compliance and to reduce instances of light trespass and glare associated with new development. She said, "Even with the implementation of dark-sky compliant fixtures, neighbors (of new developments) report glare from these more intensive light sources."
Falcone petitioned EQAC to advocate for resource increases to the staffing of field inspection and enforcement of outdoor lighting restrictions.
"With the adoption and implementation of more energy efficient LED lighting consistent with County rules, there is growing concern that this technological advancement has not resolved the issues of light pollution, rather it has produced a dilemma that appears beyond the effective enforcement and oversight by County officials due, partly, to inadequacies of inspector resources," Falcone said.
A link to the Jan. 13 meeting should be available by Thursday, Jan. 21, according to the County spokesperson. EQAC's next meeting is Wednesday, Feb. 10, 2021, at 7:15 p.m.
On Jan. 16, a group of concerned citizens and members of GFCA gathered on Corobon Lane in Great Falls. They were there to discuss an apparent "clear-cutting site" with residential construction in progress, located in what Bill Denk, Co-chair GFCA Environment & Park Committee, said was a "Resource Protection Area." Denk said that four and five rear-axle dump trucks went by his nearby home 60 to 80 times a day for six weeks. He followed the trucks and found them spreading fill dirt to build up the project area at 11118 Corobon Lane. According to the residents adjacent to the site, Jeanne LeFevre and David Weisman at 11124 Corobon Lane, storm water from the building site began flowing onto their property. "It cost us money, thousands of dollars," to add drainage, he said. According to Jennifer Falcone, Nichols Run and Jefferson Branch Resource Area flow to the Potomac River.