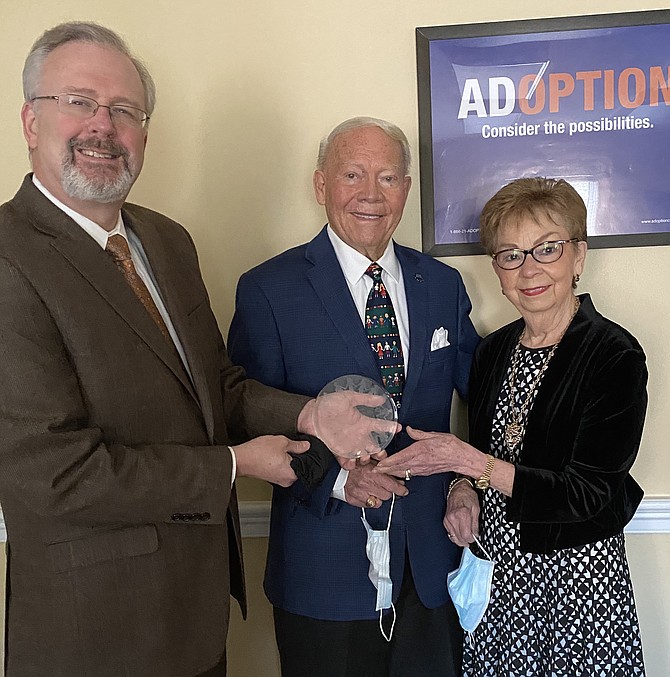 The National Council for Adoption (NCFA) in Alexandria, a leading voice among national adoption and child welfare organizations, announced Dr. Wayne Winston Sharp, Ph.D. of McLean and his wife Linda Whitbeck Sharp the recipients of NCFA's The Ruby Lee Piester Adoption Award.
Named in honor of its founder, the award "recognizes a lifetime of service to children, birth parents, and adoptive families." "It is reserved only for those whose exceptional and extraordinary lifetime achievement has changed the practice of adoption for the better," according to the nonprofit's website.
"Wayne's leadership helped us stay hopeful...Even now, as we just celebrated our 40th anniversary, Wayne's already talking about the 50th anniversary," said Chuck Johnson, President and CEO of NCFA. Johnson said that although plans were in place in April of 2020 to celebrate NCFA's 40th anniversary and recognize the Sharps, COVID-19 canceled the event.
"When we are able to be together, we expect, as Wayne would want to hope and expect, to do it sooner than later.," said Johnson. "We are working in that direction but until then, we wanted to go ahead in this way, and acknowledge publicly," he said.
According to Johnson, Wayne, who was adopted at birth by "two loving and inspirational parents," Bob Henry and Mayana Yates Sharp, was raised on the family ranch in Dallas, Texas, near San Angelo. In 1984 Wayne contacted NCFA when he sought information about his and his adopted sister's legal inheritance rights..
WAYNE and NCFA's co-founder, Dr. William L. Pierce, developed a close friendship that led years later to Wayne serving as an NCFA volunteer consultant. Wayne used his skills as a United States diplomat to help NCFA negotiate adoption issues the organization encountered at the Hague Convention, which established rules and regulations for intercountry adoptions. "As a stakeholder organization, we were very involved in that. Wayne helped us understand some of the diplomatic issues and some of the chains of command we needed to go through to influence policy and its implementation," said Johnson.
In 2007, Wayne was elected to NFCA's board, bringing his Certified Financial Planner skills to his tenure. Johnson said, "The end of 2008 and 2009 were just hard years for us, a lot of groups, particularly nonprofits, because the economy tanked... Most of us were trying to make payroll and pay bills... He helped the organization not just get through the financial crisis of 2007-2009 but survive and thrive through today...This is not something he did half-heartedly. It was a lot of time... We've been able to pay our bills, build up a small reserve, and we're working on building up a larger reserve." His work to ensure a sustainable level of support for future generations continues in Wayne's current role as Immediate Past Board Chairman."
Johnson said that as Wayne transitioned into the elected position of Board Chairman, he looked for ways to engage board members, find their talents and interests, and best use them. Johnson and Wayne continued to work closely together, staying "very optimistic and did not allow circumstances to define or be a self-fulfilling prophecy," according to Johnson.
Of course, Wayne couldn't have done any of this without Linda's support and encouragement. "Linda is a great communicator," Johnson said, "A lot of times, he'd come back and say, 'You know, Linda convinced me that this is better. You're right, Chuck. Linda agrees with you. Let's, do it y'all's way."
"We're honored. NCFA and adoption have greatly affected our lives," wrote Wayne in an email.
ON JAN. Jan. 14, 2021, the threesome, Dr. Wayne Winston Sharp, Ph.D. Immediate Past Chairman of the Board, Chairman, Investment Task Force of National Council For Adoption and his wife Linda Whitbeck Sharp, recipients of The Ruby Lee Piester Adoption Award (2021), joined Chuck Johnson, NFCA President and CEO at the office of NCFA, 225 N. Washington Street in Alexandria. There, they recounted stories about their shared experiences and marked the informal recognition with photos.
Afterward, Linda agreed with Johnson's assessment. "I am a sounding board," she said. Asked how much time Wayne spends on NCFA duties and advocacy, she said, "Every day, all day."
According to Wayne, while he continues to work and serve on the board to fulfill the organization's mission, he is aware of the need to look more closely at foster children in the U.S., especially placement for siblings, special needs children, and youth ages 14 years or older. One of the challenges facing older youth in foster care is the young people age-out at age 18 in many states.
Wayne said he is proud of his efforts and those of others who worked to extend the Foster Care Assistance Program beyond age 18 to 21 in more than half of the states in the U.S. "We still have lots of work to be done…I just can't stop until I know every child has a permanent family and a home," he said.