The McLean Orchestra was honored as this year's "beneficiary" of proceeds from the Greater McLean Chamber's third annual Suits & Sneakers event at Claude Moore Colonial Farm on Oct. 2. As it has for many prior Chamber events, the orchestra provided two musical ensembles to entertain the large crowd. Following the event, President Marcia S. Twomey presented the orchestra Executive Director John Huling with a charitable donation of $1,500. Huling noted that this would help the orchestra to continue its community outreach efforts including the provision of ensembles for community events. Two orchestra ensembles performed at the McLean Project for the Art's Artfest in the McLean Community Park on Oct. 14.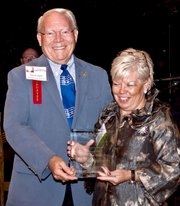 A key feature of the third annual Suits & Sneakers event, which was attended by over 250 business leaders and elected officials, was the presentation by Greater McLean Chamber Chairman Merritt Green of the 2012 Business and Community Award Winners. In keeping with the theme of honoring the McLean Orchestra, Immediate Past President Wayne Sharp, under whose leadership the excellent collaboration with the Chamber had developed, received the Chairman's Award.
In addition to leading a revitalization of the orchestra as president after the "Great Recession" that adversely affected non-profits, and especially the performing arts, Dr. Sharp is a long time leader in community service. He has served as president of the community associations in McLean where he and his wife Linda have resided since 1972, first in Potomac Hills and then in Chain Bridge Forest, for which he was honored as director emeritus and is currently the senior advisor. Adopted at birth, Sharp is active with the National Council for Adoption, currently serving as Treasurer and on the Executive Committee. He is president of the Foreign Agricultural Service Retirees, and for many years served on the Gift Planning Council at Inova Hospitals. During his 25-year career in the US Foreign Service, Sharp twice received the president's Meritorious Foreign Service Award.
As new orchestra president, Aileen Pisciotta, Esq., thanked the Greater McLean Chamber of Commerce for the generous donation, and promised to further strengthen the collaboration that Wayne Sharp and John Huling have established.
Indeed, with the Greater McLean Chamber of Commerce as a co-presenter, Aileen has launched the orchestra's highly successful "Instrumental to Business" initiative to partner with many more organizations and businesses in McLean and beyond to help build a "community in concert", where everyone will be proud to live and businesses will thrive.