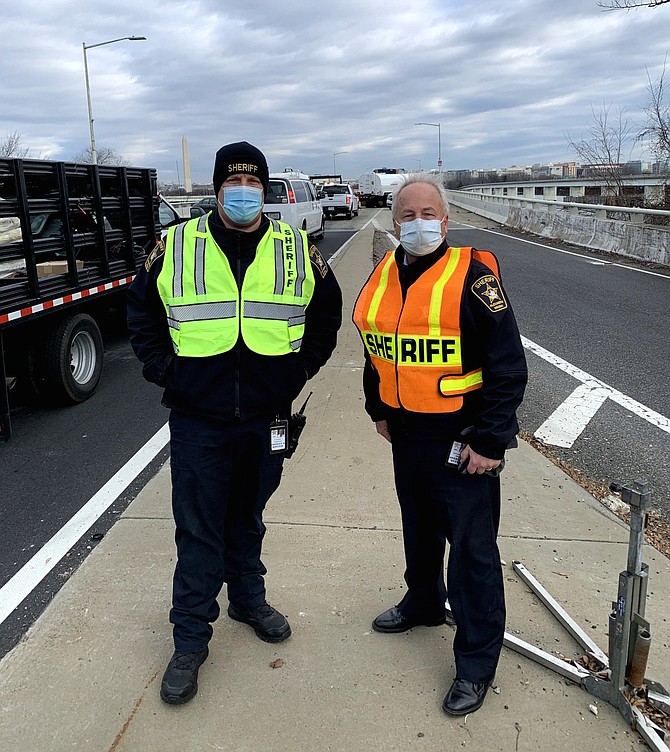 Sheriff Dana Lawhorne led a contingent of local deputies from the Alexandria Sheriff's Office in handling the traffic closures at the 14th Street Bridge in support of security efforts for the Presidential Inauguration in coordination with the Virginia Department of Transportation and Virginia State Police.
"The Virginia State Police requested our department to take command of closing the 14th Street Bridge for the inauguration," Lawhorne said. "Sheriff Lt. Daniel Gordon was responsible for the planning and implementation of the operations plan."
Several bridges that connect Virginia to Washington were ordered closed through the early morning hours of Jan. 21. The Alexandria Sheriff's Office was among the local and state authorities assisting with the closures of the Potomac River spans under an agreement with the U.S. Secret Service.
Bridge closures from Virginia into Washington included the Theodore Roosevelt Bridge (Interstate 66), Arlington Memorial Bridge, Interstate 395 Bridge and 14th Street Bridge, beginning at 6 a.m. Jan. 19 and ending at 6 a.m. Jan. 21.
"The plan was executed by deputies from the Alexandria Sheriff's Office with the assistance of Arlington County and Herndon police departments," Lawhorne added. "The women and men of all law enforcement stand tall while facing constant threats to their safety. I commend them all."