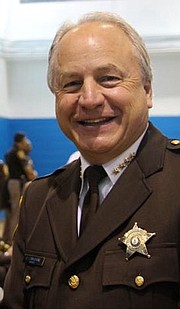 When inaugurations come around, members of the Alexandria Sheriff's Office are always on the front line.
Again on this Friday, 13 members of Sheriff Dana Lawhorne's deputies will be sworn in by the U.S. Marshals Service. These deputies will join the elite protective agencies providing security at the nation's 58th inauguration, rain or shine.
"Our team is happy to participate in the Presidential Inaugural. The Alexandria Sheriff's Office has always been a part of the event. Our deputies are well trained and perform their duties to the highest degree of professionalism," said Lawhorne.
Alexandria city police will be a part of the security forces.
President-Elect Donald J. Trump becomes the nation's 45th president at noon. Moments before this historic swearing in, Vice President-Elect Mike Pence takes the oath as 48th Vice President.
Fourteen vice presidents became president; eight moved up at deaths of sitting presidents; and four went directly to the highest office of the land.
Inauguration planners have been preparing for 900,000 to one million visitors. The parade along Pennsylvania Avenue and festivities will be guarded by more than 28,000 armed law enforcement from the FBI, Secret Service, U.S. Capitol and Park Service police. Joining the security will be about 8,000 uniformed national guard and 5,000 ceremonial Army troops.
Sheriff's deputies from Alexandria are accustomed to bolstering federal police agencies. They are part of drug and special task forces.
Sworn officers representing other localities and states will also be sworn in for special duty.
Alexandria deputies and police will be dressed in their regular uniforms, with duty side arms, body armor and gas masks.
While the local officers are honored to participate in the detail, their duty is serious business and they are prepared, Lawhorne said.