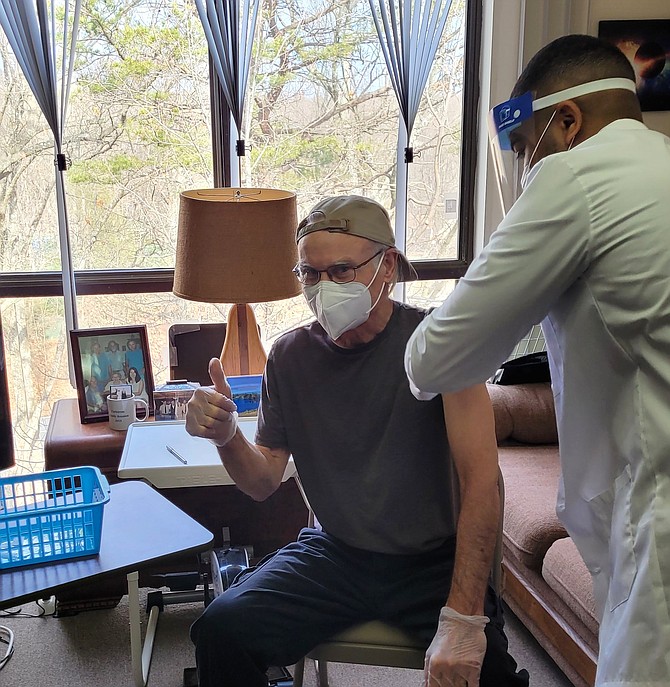 Lake Anne Fellowship House residents Steve McAvoy, 71, and Jin Liu, 84, of Reston were among the first of seven hundred anxious older adults at one of the three senior affordable housing communities operated by Fellowship House in Reston and Woodbridge who were inoculated last week against COVID-19. Vaccinations began Jan. 18.
"We are so happy and appreciate this so much," said Jin Liu of Reston, who lives with his wife, Geeta. "There are long waits, long lines, and it is so cold outside."
Following many weeks of planning with health departments and local pharmacies, Fellowship Square began bringing the vaccines directly to residents' doors.
"With an average age of 78, Fellowship Square residents are in the high-risk category for COVID," said Christy Zeitz, CEO of Fellowship Square. "Working with Walgreens and CVS teams, (we) are thrilled to be able to bring the vaccine to our residents' doorsteps."
A spokesperson for Fellowship Square said that the follow-up doses are scheduled. The mobile vaccine clinics will return to deliver the doses in the same door-to-door fashion. "Thank you for coming to our home to get us the vaccine," said Vajiheh Rohani, 85, of Reston.
On the same day Fellowship Square seniors began receiving the vaccination, according to data compiled by Johns Hopkins University, the U.S. surpassed 400,000 total Covid-19 deaths. with a quarter of those coming over the previous 36 days.