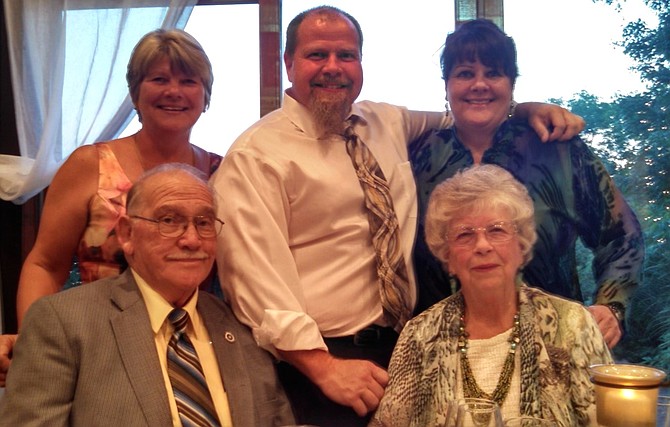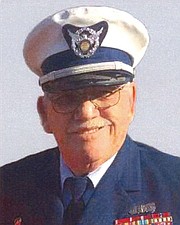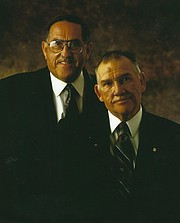 The Everly-Wheatley Funeral Home is one of the oldest businesses in Alexandria, dating back to 1849, when Benjamin Wheatley opened for business on the waterfront. The family made their own caskets, the first ones resembling ice boxes with ice in the bottom to preserve the body. They were one of the first in the country to do embalming as they helped prepare bodies for troops during the Civil War to preserve them until they could be sent home.
In the early 1920s, patriarch Josiah Stickley Everly entered the picture and began a family tradition that was passed down to his sons, including Julian Everly.
Julian Everly was a mainstay at the business, building the company into a household name throughout the region. On Jan. 12, Everly died at the age of 89.
Julian Wilson Everly Sr. was born Jan. 1, 1932, to Josiah and Ruby Everly. He was born and raised in Alexandria and attended St. Stephens School and George Washington High School. During his high school years, Everly became a star athlete, lettering in four sports. Everly spent most of his life in Alexandria, where he and his brother John were known as the mischievous "bad boys of Rosemont" in their youth.
It was during this time that Everly met the love of his life, Jean Walker Wiley, and the two were married on Dec. 27, 1952. Everly and his bride spent their first year of marriage attending Virginia Polytechnic University and Mary Washington College respectively. He enlisted in the U.S. Coast Guard in 1953 and following four years of active duty returned to Alexandria to work with his father and brother at Everly-Wheatley Funeral Home.
Over the years, ownership of the business changed hands with the Everly family purchasing the business from the Wheatley family in 1933. Under the construction guidance of Simpson Construction, the family took on the task of building a new funeral home on Braddock Road, which opened in 1959.
As leaders in the industry, Everly was one of the first to hire female funeral directors. In the early 1970s, Everly served as Funeral Director and Manager of Everly Funeral Home in Fairfax. He remained there until his retirement in 1994. In total, he served over 40 years as Funeral Director, Manager and Co-Owner of the family's Everly Funeral Homes.
In addition to his work in the funeral industry, Everly spent 34 years in the Coast Guard Reserve. He retired in 1991 out of CG Station Still Pond in Warton, Md., having risen in the ranks from Seaman to Master Chief Petty Officer/XPO. He continued to support the Coast Guard and promote boating safety through the Coast Guard Auxiliary until 2018.
Everly was a QE Vessel Examiner and expert at tying knots, spending many hours instructing others in the skill of tying knots. He was named Auxiliary Coast Guardsmen of the Year, having contributed 65 years of service to the U.S. Coast Guard.
In addition, Everly supported his community for over 63 years as a member, volunteer firefighter, and leader at a multitude of fire stations including U.S.C.G. Training Center Cape May, N.J., Fire Department Station 59; City of Alexandria: old Truck & Engine Companies 2 & 3, Alexandria Rescue Squad (Captain), Friendship Fire Company; Fairfax County: Franconia Volunteer Fire Department (Chief), Penn Daw Fire Department, Burke Volunteer Fire & Rescue Department, Greater Springfield Volunteer Fire Department, West Springfield Fire Department; and Callao Volunteer Fire Department.
Everly was one of the first volunteer Battalion Chiefs in Fairfax County and was instrumental in developing the training and operating specifications for boating rescues in Fairfax County. He supported his communities as a member of the Fairfax Rotary Club, Scottish Rite, Lion's Club and Masonic Order.
When not at work, Everly enjoyed the family's Cedar Knoll Farm in the Shenandoah Valley, and his retirement home along Wicomico Creek in Callao, Va. He enjoyed hunting, fishing, farming, horseback riding, boating and his ever-rotating collection of trucks.
"Dad was known for his casual wear of white, knee high socks and sturdy sneakers with denim shorts, held up by bright orange suspenders under a plaid shirt with a steady supply of mint Lifesavers in his pocket," said his daughter Linda Everly Smith. "He was also known for the comical removal of his teeth at the dinner table and expensive, but never working hearing aids."
Everly is survived by his wife of 68 years, Jean Wiley Everly; Children - Elizabeth (Marc) Shockley, Linda (Jeffrey) Smith, Julian Wilson (Ramona) Everly, Jr.; Grandchildren Juliann; Jamie; Justin (Jaclyn); Jessica (Joseph); Lauren (Mario); Allison; Brayden; Terrin (Bryan); Amber; Tanner (Jamie); Brittany; Tristin (Kyle); Casey (Gio); Great Grandchildren Hailee; Mary; Leslie; Austin; Deveraux; Paityne; Parker; Colin; Lucy; Jayce; Mason; Landon; Addison; Leah; Larissa; Karsen; Mia; Arianna; one cousin Frederick Everly; sister-in-law Carol T. Everly; nephews Josiah and John Everly; and many nieces, nephews, close family members and friends. He was preceded in death by his parents, Josiah Stickley and Ruby Louise Everly; and brother, John Clark Everly.
Services for Everly were private. In lieu of flowers, donations may be made to the Ivy Hill Cemetery Historical Preservation Society, P.O. Box 320065 Alexandria, VA 22320.