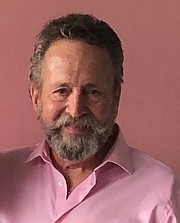 Glenn Kirby Wiggs, 71, the beloved owner and operator of McLean Hardware, passed away on June 5, 2021, at Medstar Washington Hospital Center. As the patriarch and owner of McLean Hardware for almost 40 years, his passing leaves a void within the McLean Hardware family and the community. Glenn purchased the store in 1984 from the previous owner Dick Hinkle. He moved it to its current location at 1445 Chain Bridge Road in September 2008, coinciding with the store's 60th anniversary.
"I feel as if we have lost a dear friend. Going to McLean Hardware is like going to see family, but if I didn't see Glenn, it was like missing seeing my dad, favorite uncle, granddad, best friend all rolled up into one," posted Chip and Barbara Comstock to Glenn's Tribute Wall at Stauffer Funeral Homes, P.A. "His gentle spirit, his subtle humor, his concern about how you were doing that day, was uplifting.... Glenn was a Great Man but came across as a regular good guy. We loved Glenn and what he did for the McLean community."
Even as his health declined, Glenn traveled from his residence in Frederick, Md. to McLean twice a week to make orders and greet the many customers he loved. The family-owned business is known for its customer service and community involvement, including its longtime sponsorship of Little League teams to high school football games.
SUPERVISOR John Foust (D), who represents McLean on the County Board of Supervisors, announced Glenn's passing during the June 22 Full Meeting of the Board. Foust said, "If you ever were a McLean resident, you knew Glenn as the owner of the McLean Hardware store. He loved his customers, and his customers loved him. Everyone goes to the McLean Hardware store. It's a place where you can still buy one nail, six inches of chain, or the latest history of McLean."
Glenn was a strong proponent of hiring young people to work at the hardware store, training them to help people individually, according to Foust. A post on the McLean Hardware Facebook page in 2018 by John Caruso reiterated such: "The local McLean Hardware is so much more than a convenient place to get replacement parts. Along with my son, they've hired hundreds (maybe thousands) of high school kids over the years and taught them 3 of the most important American values: service, respect, and earning a living...McLean Hardware, Glenn, you truly represent The Best of America."
"He did something unique with his life," said Foust. "He created a really special place, and we're going to miss him. I ask that everyone keep his family, including his wife Nancy, in their thoughts and prayers."
GLENN is survived by his wife Nancy Wiggs and their blended family: Christopher Wiggs, of Frederick, Justin Wiggs and his wife Tammy, of Baltimore, Andrew Rippeon and his wife Lisa, of Davidson, N.C. and Rebecca Russell and her husband Eric of Frederick. He also leaves behind his sister Sharon Spicknall and her husband Charles (Chuck) of Hagerstown. Finally, he is survived by his beloved grandchildren: Courtney Wiggs, Ellie Wiggs, Lizzy Wiggs, Eli Rippeon, Oakes Rippeon, and Cooper Russell. He was predeceased by his sister Barbara (Barbie) Wiggs.
Instead of flowers, memorial donations in Glenn's memory may be made to Community Living Inc., 620 B Research Drive, Frederick, MD 21703. Donations may also be made to an organization that Glenn's father was instrumental in founding, The Arc of Frederick County, 620 A Research Drive, Frederick, MD 21703.
A local memorial will be held in McLean in July to provide an opportunity for all who knew and loved Glenn to help celebrate his life. Further details will be posted at the McLean Hardware Store when plans are finalized.