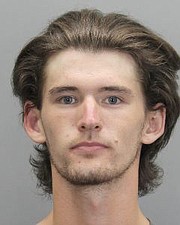 A 19-year-old man from Fairfax Station has been arrested for two sexual assaults that occurred in 2020. Detectives were notified of the first sexual assault in February of 2020. The victim had attended a gathering that involved the underage consumption of alcohol. When the victim became impaired, she was sexually assaulted by two men. At that time, the victim did not wish for the case to go forward.
The following October, a second victim reported being sexually assaulted in September of 2020 by one of the same suspects from the first incident, Frederik "Ben" Wolsak Jr.
In June of 2021, the victim of the first assault decided she was ready to pursue charges. As detectives re-opened the investigative files from the first reported incident, they identified the commonalities in the actions of the suspect who assaulted two intoxicated women.
This past Tuesday, June 22, detectives arrested Wolsak Jr. and charged him with two counts forcible sodomy and two counts intercourse with victim through mental incapacity or helplessness. He is currently being held at the County's Adult Detention Center without bond. A juvenile teen was also charged with rape in relation to the first reported sexual assault. The teen was taken into custody and processed at the Fairfax County Juvenile Detention Center.
"The trauma that comes with being sexually assaulted transforms victims and survivors. It's important for us as a society to remember that there is no one response to sexual assault to include when a victim of sexual assault is ready to report to law enforcement. A victim of a sexual assault's decision to report their attack is theirs to decide and we want them to know if they are not ready to report it is not only okay but it is a normal response. We want victims and survivors of sexual assault to know when you are ready to tell your story, there is help out there in the form of victim advocacy, information, referrals and most importantly support. If you are a victim of sexual assault, please know our sex crimes detectives and victim specialists want to hear from you and we want to support you no matter how many days, weeks, months or years have gone by," says Saly J. Fayez, Director, Victim Services Division.
Detectives are seeking anyone with information about these cases or may have had inappropriate contact with Wolsak Jr. to call our Major Crimes Bureau at 703-246-7800, option 3.
Tips can also be submitted anonymously through Crime Solvers by phone – 1-866-411-TIPS (866-411-8477), by text – Type "FCCS" plus tip to 847411, and by web – Click HERE. Download our Mobile tip411 App "Fairfax Co Crime Solvers". Anonymous tipsters are eligible for cash rewards of $100 to $1,000 dollars if their information leads to an arrest. If you would like to be contacted by a detective, please provide your contact information.
Victim specialists from our Major Crimes Bureau's Victim Services Division have been assigned to ensure that the victims are receiving appropriate resources and assistance.
For ongoing updates, please read our blog and follow us on Twitter, Facebook and Instagram at @FairfaxCountyPD.