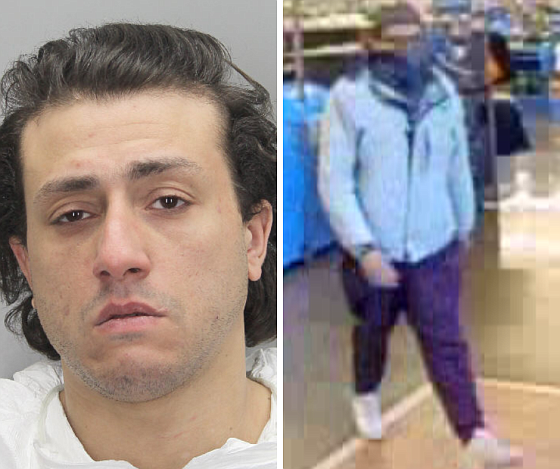 A 27-year-old man is facing charges after sexually assaulting a woman who was sitting on a bench near a shopping center in Tysons. Officers were called to the 1500 block of Cornerside Boulevard for a report of a sexual assault on March 4. The victim was sitting on a bench around 4 p.m. the day prior when the unknown man approached her, engaged her in conversation then sexually assaulted her. The woman screamed and was able to leave. As she walked away, the man continued to follow her. A bystander saw the man following her and escorted her inside a business.
As Major Crimes Bureau detectives were working on the case, the man was seen in the area again on Mar. 12. Officers responded and took Mohamed Souidi, no fixed address, into custody. He was charged with object sexual penetration and abduction. He is being held at the Fairfax County Adult Detention Center without bond.
Detectives continue to investigate this case and are asking for your help. Considering the time and location of the assault, detectives believe there may have been people in the area who unknowingly witnessed this crime. If you have any information about this case, or you recognize this man and believe you may have been assaulted by him, please call detectives at 703-246-7800, option 3. Tips can also be submitted anonymously through Crime Solvers by phone – 1-866-411-TIPS (866-411-8477), by text – Type "FCCS" plus tip to 847411, and by web – Click HERE. Download our Mobile tip411 App "Fairfax Co Crime Solvers". If you would like to be contacted, please leave your name and phone number in the comment section when submitting a tip. Tipsters are eligible for cash rewards of $100 to $1,000 if their information leads to an arrest.
Victim specialists from Major Crimes Bureau's Victim Services Division have been assigned to this case to ensure the victim is receiving appropriate resources and assistance – FCPD Public Affairs Bureau says in a press release.