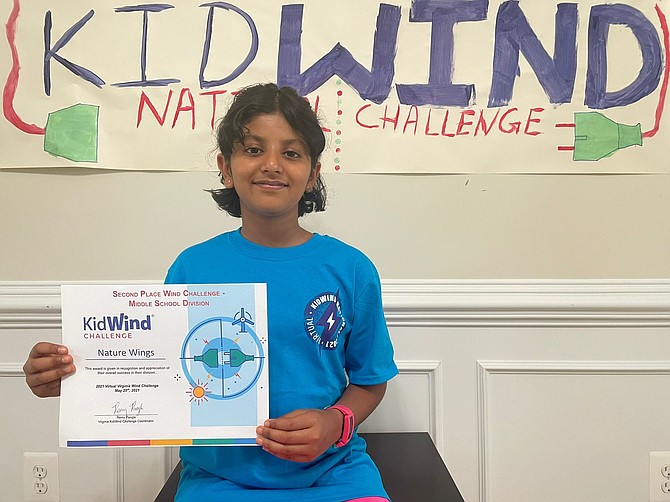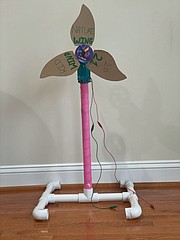 Cardinal Ridge Elementary School student Pranamya Jindal won first place in the elementary-school division under the team name Nature Wings. This was the Centreville resident's first time participating in the renewable energy competition. The 2021 National KidWind Challenge was hosted virtually from June 8-10 on Zoom.
The competition is a project where students test their knowledge of renewable energy.
"I got the option of making a wind turbine or solar powered project. In both challenges, you get to learn a lot about wind energy or solar energy, and you make a model of a wind turbine or a solar powered project," Pranamya Jindal said.
KidWind was originally introduced to Jindal through her mother who later on acted as her coach.
"My mom was online one day and she found out about it and shared it with me," Jindal said.
As a coach, Richa Jindal focused on guiding her daughter instead of directly teaching her.
"I learned the importance of letting kids learn independently while being provided with material, a platform to actually make a difference to real-world problems," Richa Jindal said.
During her preparation, she researched the components of wind energy and created various turbine blades.
"We tried checking out what the KidWind app had to offer. Then, once the material that KidWind gave arrived, we started exploring it. Afterwards, we tried to make, test, and experiment with the blade designs," Pranamya Jindal said.
Despite her hard work, the award came as a shock to Jindal. It gave her confidence to explore more about steps she can take to the causes she believes in.
"I was really surprised, like I was quite sure that because of my Quizbowl score I wouldn't have made it – I was so happy," Pranamya Jindal said.
Moving forward, Jindal plans to continue learning about renewable energy and participate in the 2022 KidWing Competition.
"During the summer I'm going to research a little more and learn more about the competition so that next year I can perform even better. Maybe I'll even try doing a solar project," Jindal said.
The mother-daughter team was especially thankful for the guidance they received and the team at KidWind for hosting the event.

"We want to thank Ms. Remy and Ms. Grace from CASE. We also cannot express enough how much we appreciate all the support and the opportunities provided to us by KidWind," Jindal said.