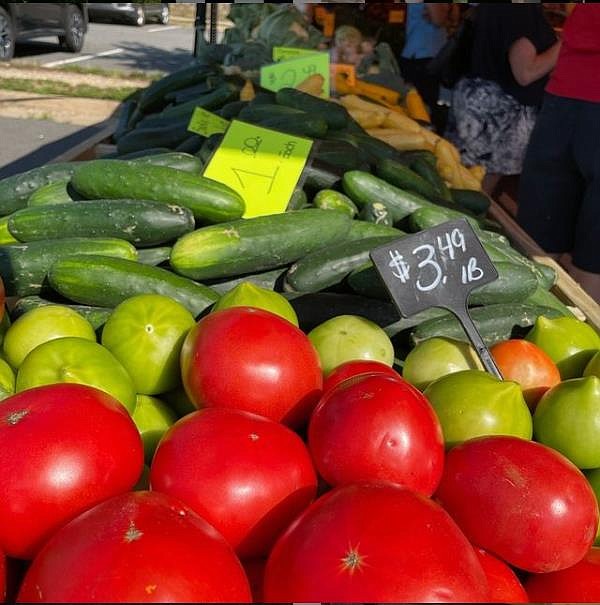 It might be the fresh produce, the comradery or satisfaction of eating straight from the vine; Fairfax County has plenty to highlight for National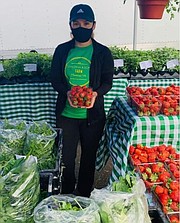 Farmers Market Week at the 10 farmer's markets across the county.
"Peaches are in," said Pamela H. Smith, the Community Horticulture Supervisor at Green Spring Gardens where the markets are based. In late July, she also pointed out that the bulk of the tomato, squash, cucumber, corn and peppers are being harvested now so "visit the markets when produce is plentiful and always fresh from our local farms," she added.
Fresh fish is also available at the two Saturday markets, Burke and Reston, and McCutcheon/Mt. Vernon market at Sherwood Hall Library on Wednesdays. Fish and shellfish are direct from the Chesapeake and surrounding waters.
The Saturday markets are the most popular, at Reston in the Lake Anne parking lot and Burke VRE station. There are no county farmer's markets open on Monday or Tuesday, and this is due to the attendance in the past, and farmer participation. Farmers need time on the farm for planting, harvesting, taking care of crops, and preparing for upcoming markets.
This year, the county is experimenting with table scrap recycling (composting) at three of the markets, Herndon, McCutcheon and Burke. "Composting your food waste has just become easier. If you want to compost but can't do it at home, you can now bring your scraps to several different county farmers markets. A win-win for you and the environment," the county said.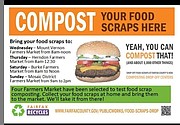 National Farmer's Market Week is Coming
The Farmers Market Coalition is a nonprofit whose mission is strengthening farmers markets across the country so they can serve the community while providing income opportunities for farmers. The coalition is organizing the 22nd annual National Farmers Market Week Aug. 1 - 7. It's a weeklong celebration declared by the U.S. Department of Agriculture that highlights the role farmers markets play in the nation's food system. The coalition represents markets in all 50 states, Puerto Rico and Canada, said Ben Feldman of the Coalition.
In addition to providing a source of fresh produce for consumers, the farmers get something out of it too. "It's typically their top source of
2021 MARKET SCHEDULE
There are no markets on Mondays or Tuesdays
WEDNESDAY
McCutcheon/Mount Vernon
April 21 - Dec. 22
8 a.m. - Noon
Sherwood Library, 2501 Sherwood Hall Lane
Oak Marr
May 5 - Nov. 10
8 a.m. - Noon
Oak Marr Recreation Center, 3200 Jermantown Road
Wakefield
May 5 - Oct. 27
2 p.m. - 6 p.m.
Wakefield Park, 8100 Braddock Road
THURSDAY
Annandale
May 6 - Nov. 4
8 a.m. - Noon
Mason District Park, 6621 Columbia Pike
Herndon
April 22 - Nov. 4
8 a.m. - 12:30 p.m.
Old Town Herndon, 700 Block of Lynn St., By the Red Caboose
FRIDAY
McLean
May 7 - Nov. 12
8 a.m. - Noon
Lewinsville Park, 1659 Chain Bridge Road
Kingstowne
May 7 - Oct. 29
3 p.m. - 7 p.m.
In the Giant parking lot, 5870 Kingstowne Towne Center
SATURDAY
Burke
April 10 - Dec. 18
8 a.m. - Noon
VRE parking Lot, 5671 Roberts Parkway
Reston
2021 Schedule
May 1 - Dec. 4
8 a.m. - Noon
Lake Anne Village Center, 1609-A Washington Plaza
SUNDAY
Lorton
2021 Schedule
May 2 - Nov. 21
9 a.m. - 1 p.m.
VRE parking lot, 8990 Lorton Station Blvd.
income," Feldman said. He said the research shows that the farmers that participate in the farmers market program have done better business-wise and it helps overcome challenges in the growing season.
This year, Farmers Market Coalition's National Farmers Market campaign will focus on three key messages that illustrate the vital role farmers markets play in communities, specifically in the wake of the Covid-19 pandemic and renewed calls for social justice reform across the country. Market operators are encouraged to share how their market has 1) provided essential services during the pandemic, 2) served as a community hub for unity and stability during challenging times, and 3) what efforts have been taken to improve social equity at farmers markets across the country to make markets more safe, inviting, and accessible spaces for all.
"It has been a challenging year for farmers markets, but market operators have truly risen to the occasion to ensure communities could continue to access fresh food produced by local farmers," said Feldman. "Nothing has emphasized the intrinsic role farmers markets play in our food system quite like the Covid-19 pandemic, but market operators quickly adapted to implement innovative safety practices, keeping their communities both healthy and fed, and their market thriving."