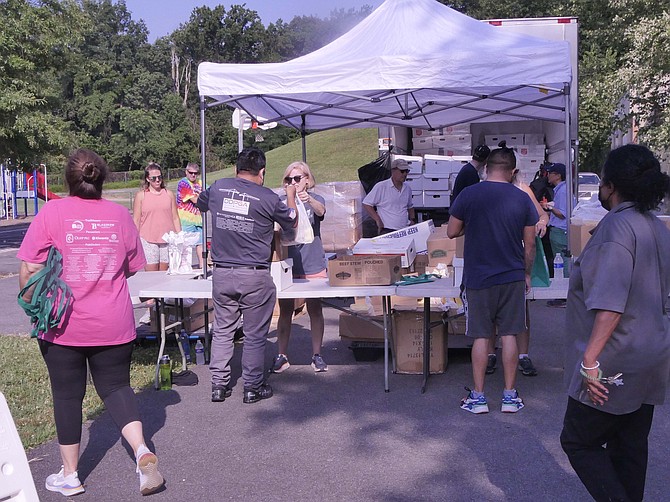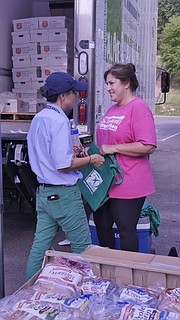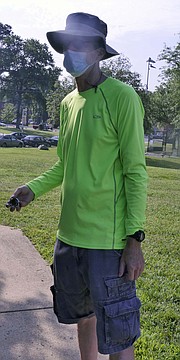 David Wynne stands on the sidewalk outside William Ramsay Recreation Center with his clicker. It is 8:57 a.m., and he has counted 66 families who have stopped by since the new ALIVE! food distribution site opened at 8:30 a.m. Wynne is a social worker and recognizes a number of his clients. One had texted him earlier in the morning to find out if halal meat would be available today.
Ann Patterson, ALIVE! food director says, "One man was already in line when I arrived at 6:54 a.m. "He had to go to work and he wanted to be first in line to avoid a potentially long line later." Patterson says they came with the intention to serve 200-250 families with a 5-7 day supply of food for a family of four at this new site today.

The walk-through site at William Ramsay joins Cora Kelly Elementary School and NOVA Alexandria campus, which are drive-through sites, for food distribution two Saturdays a month. "We wanted to add a new location closer to their neighborhood in a high need area, to meet clients where they are. Transportation is one of the top three barriers to accessing social services."
Patterson calls out to those waiting in line: "Tell your neighbors. We are open until 10:30."
A socially distanced line of people wait along the sidewalk, some with shopping carts and others just with strong arms. The pandemic has temporarily replaced the customized choice model with "grab and go" prepackaged supplies. Each household stops for a family-size package of fresh chicken, bread of some kind, eggs and a box of fresh produce, which today includes green and jalapeño peppers, garlic, cabbage, apples, plantains. In addition, there is a box of dry goods.
Patterson says some people don't want everything in the dry goods box like granola bars and applesauce and "we find they open the box and take what they want and leave the rest. What they take out has to be collected later from the sidewalk where they left it. They want fresh produce."
Patterson muses that some people have been coming to the food sites for decades but still don't bring anything to take home the food. "I ask them to remember next time and they tell me that I always find a way to help them carry it home, like an empty chicken box or an extra bag."
Patterson says at the height of the pandemic they would serve 1,200 families on a Saturday. "Sometimes we would empty out the truck but everybody went home with something — maybe three dozen eggs and bread but no fresh vegetables."
Joe Harrington and Madelyn Giblin are the site coordinators who are in charge of running the show at the Ramsay site. Patterson says, "They stage the food, organize and make all of the decisions when I'm not here."
Liza Feiler, volunteer manager, is in charge of all of the ALIVE! volunteer programs and is inserting eviction and rental assistance leaflets in with the groceries. She says ALIVE! is volunteer based and has "so many different programs that utilize hundreds of volunteers."
This year, weekend food distributions served 1,790 households for the food distribution in the month of April; 1,411 households in May; and 1,348 in June. In addition, pop up food distributions provide food to specific neighborhoods and apartment buildings.

More information on schedule and location of upcoming distributions can be found at https://www.alive-inc.org/.
The summer ALIVE! food distributions are funded by grants from the Albertsons Foundation, No Kid Hungry and the City of Alexandria.