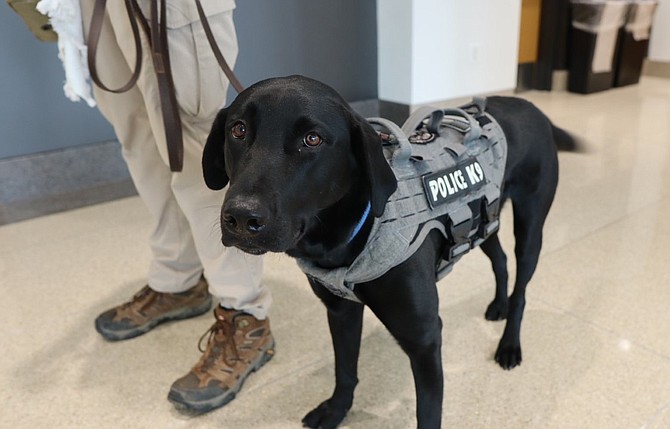 The Fairfax County Police Department has a new tool to fight cyber crimes and it's a black Labrador retriever named Browser, that specializes in sniffing out computer-related evidence like thumb drives, cell phones or laptop computers that may have been used by criminals, particularly in child exploitation.
Browser is one of two certified electronic detection canines in Virginia and he finds these items by detecting a distinct chemical found in electronics. Browser can pinpoint where the electronics are and can find devices as small as a microSD card. This comes in handy "if a suspect throws a phone," police said.
Last year, Browser helped with 50 search warrants, FCPD said.

Browser was purchased with a donation from a community partner. He received several months of initial training from the vendor and spent an additional 40 hours with his handler, Detective Ray McCoy. To fine tune their skills, the pair completed another 200 hours of training sponsored by a federal partner. When they are not conducting a search, Browser and McCoy continue to train twice a day to keep their skills sharp.
Browser and McCoy are assigned to the Child Exploitation Unit in the FCPD Major Crimes, Cyber and Forensics Bureau, and are stationed in the police headquarters in Fairfax. During a search, K9 Browser is led by his handler, and if he finds a device, he sits down and is rewarded with food. An example of the work Browser performed since becoming a member of the Department took place last summer when Browser and McCoy were called to help a Fairfax County Probation and Parole officer search the home of a registered sex offender. During the search, Browser alerted on a bag. The probation officer found a hidden device that had inappropriate recordings of women from a neighboring jurisdiction.
Browser and McCoy also help Northern Virginia Washington, D.C. Internet Crimes Against Children Task Force with search warrants related to investigations involving child sexual exploitation materials. With the help of Browser, the FCPD has been able to expand investigative functions and abilities with cases involving digital media.
When Browser is not working or training, he is an office companion and member of the McCoy family.