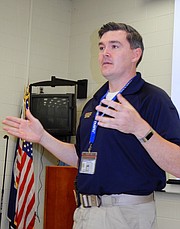 Each month, members of the Sully District Police Station's Citizens Advisory Committee learn about a different facet of police work. And recently, 2nd Lt. Brendan Hooke told them about the field of digital forensics.
He supervises the Digital Forensics Section of the Fairfax County Police Department's Cyber and Forensics Bureau. And he explained that, about a-year-and-a-half ago, the department divided its Criminal Investigations Bureau into three bureaus: Major Crimes, Organized Crime and Intelligence, and Cyber and Forensics.
"We support other officers' investigations," said Hooke of his bureau. "We're more like analysts and consultants on a case – the technicians. Over 20 years ago, when my unit was founded, we had three detectives. Now, we're primarily five detectives and myself."
He said his unit handled more than 250 cases in 2017 — and each is labor-intensive, but to varying degrees. "There could be 30 [electronic] devices for us to check from a child-porn case, or one from a robbery," said Hooke. "And the amount of data is crippling. The volume is so great that we're going to have to determine where to store all this stuff globally."
That's why he's glad to have his office in the new, public-safety building off Monument Drive in Fair Oaks. "The department built a state-of-the-art lab for us with all the tools we need, including special devices to take phones apart," said Hooke. "And the people working for me are brilliant."
In 2018, his unit dealt with some 350 cases. He said their case backlog went back to that summer, but he prioritizes which electronic devices get examined and when. For example, said Hooke, homicides, rapes, robberies and child-porn cases go to the top of the list.
Discussing some of the current trends and challenges of digital crimes, he said, "People sometimes use the Internet for stalking. For example, one case involved a man who'd stalked his ex-girlfriend so much that he was able to see what she was doing on her phone and computer. And my guys were able to obtain all that digital evidence."
However, said Hooke, encryption of mobile devices definitely poses a problem for law-enforcement personnel. "We access data with a search warrant," he said. "But it's a cat-and-mouse game. As we figure out a solution, Apple will come out with something else. But it just takes time and practice."
He also noted some current scams and warned people to be alert to them so they won't be fooled. "Some people pretend to be your real-estate or mortgage broker and have you wire money to them — and then it's gone," said Hooke. "So you should always call and verify that it was really them who called you."
In addition, he said police see a great deal of identity-theft crimes. "For example, someone working in a medical facility could be taking pictures of patient information and selling it to others," said Hooke. "Then those people will put it on the dark Web and also open up lines of credit in your name. So monitor your credit — you never know when it'll be compromised."
Another scam is the SIM card swap. "That's the chip allowing your phone to communicate with the network, and it IDs it as your phone," said Hooke. "And people will ask the phone company to port over your 'new' phone number onto your phone. Then they have your phone number on their phone, and they can get into your bank account and also get your two-factor authentication."
He said criminals can also lock people out of their bank accounts, or pretend to have damaging information on them that they'll release unless the victims send them a certain amount of Bitcoin. They can also do the same thing with ransomware, holding someone's data hostage until the required payment is received.
Furthermore, said Hooke, "They also try to create a sense of urgency, telling someone, 'I'm in the hospital with your grandson' or 'Your son is in jail' and then demanding money to remedy the situation. But when you get one of these emails, text messages or phone calls, take a deep breath and think it through before acting."
He also advised residents to call their phone company and say they want to put a pin number on their account. That way, said Hooke, "Anyone asking for your personal information from them would have to give them that number first." And he suggested using authentication apps, as well.
Attendees also learned that, in the world of cybercrime, no one is exempt — even police can be potential victims. MPO Sabrina Ruck, the Sully District Station's Crime Prevention Officer, related that she got an email from someone who had one of her passwords. But being savvy about these kinds of schemes, she didn't fall for it.
"I didn't reply because I knew they were trying to verify that there was a real person at the other end," she said. "The next day, they did it again and demanded money. But I still ignored them and changed my password, and I never heard from them again."