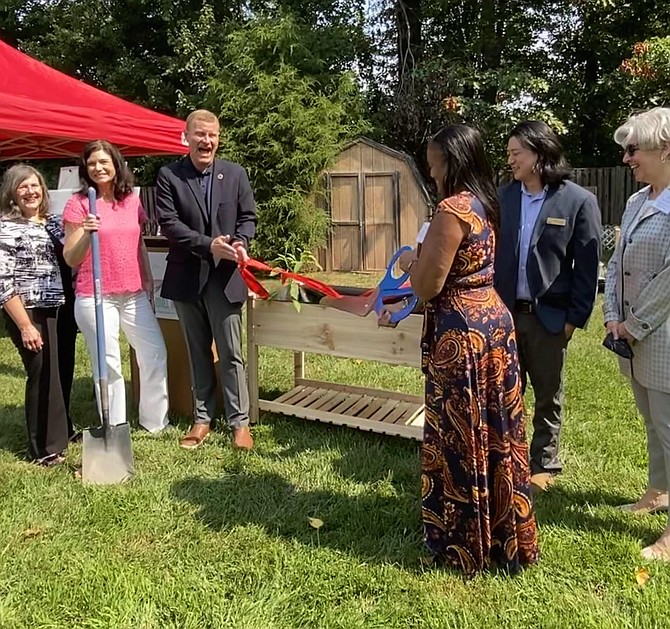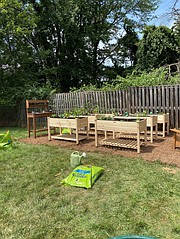 In 2020, nonprofit Pathway Homes, Inc. provided non-time-limited housing and supportive services to 616 adults in Northern Virginia with serious mental illnesses (SMI) and co-occurring disorders, some of whom experienced homelessness in 2020. The 40-year-old behavioral healthcare agency is built on the foundation of housing, having grown to a network of 476 permanent, supportive housing units, including apartments, condos, townhouses, single families, and more places people call home.
On Thursday, July 22, Pathway Homes, Inc. unveiled their first urban community planter garden located in the backyard of one of their single-family homes in Fairfax County. It consisted of six elevated garden planters on wheels, a potting table, a storage bench, and two Adirondack chairs. The individuals who reside at the home are Pathway's trailblazers. They are the first residents afforded gardens as an additional tool to recover and realize their full potential.
"We believe that housing is a right, not a privilege and that people with mental health issues can and do recover," said Sylisa Lambert-Woodard, President and CEO, Pathway Homes, during her opening remarks at the official ribbon-cutting for the garden. Supervisor Kathy Smith (D-Sully District) attended the event, as did Chairman McKay (D-Member-at-Large), Del. Karrie Delaney (D-67), Chair of Pathways' volunteer Board of Directors Patrick Chaing, local civic and business leaders, and a cadre of volunteers.
In a statement provided before the event, James Settle, an individual Pathway Homes serves, said, "I would like to grow spices. I really like to cook, and nothing would be better than fresh spices...Gardening is something that can keep my mind occupied." In 2020, Pathway Homes touched a reported 1,486 lives. Pathways' housing inventory cited 368 units leased, 108 owned, and 616 residents, according to their Annual Report 2020.
Lambert-Woodard said there is an intersection between mental health and physical health. "A healthy mind and body…[are] essential and fundamental, in creating the coping skills and the management skills necessary to move through recovery." Mental health conditions often precede chronic health conditions, which can exacerbate mental health, creating a vicious cycle. "What we're looking to do is to be able to plant a seed at that intersection of that cycle by planting gardens in our backyards," Lambert-Woodard said.

GARDENING provides much-needed opportunities for growth. It provides an avenue for socialization, and yet it is a meditative activity. Residents can interface with nature and find something meaningful in their daily lives. The second piece or goal regarding the addition of gardens is their ability to increase residents' learning about nutrition-related mental health, often overlooked, according to Lambert-Woodard. Healthy food choices can improve diets, manage weight better, decrease medications and make people feel better daily.
A third goal of the gardens is the opportunity for client employment." We're hoping that individuals that we have the privilege and pleasure of serving will embark upon creating social enterprises, interface with farmers markets, engage and develop their harvests and share with family and friends and neighbors," Sylisa Lambert-Woodard said.
LAMBERT-WOODWARD acknowledged that the gardens held big goals, and it took a village to implement the gardens. She thanked those who assembled the six waist-high wood planters on wheels, a boom for residents with flexibility issues or using wheelchairs, and the volunteers who rallied to prep the garden space for the residents.
Before introducing the elected officials and Pathways' board chair, Lambert-Woodward paraphrased an iconic comment by Audrey Hepburn: "To plant a garden is to believe in the future [tomorrow]." Standing on that metaphor, Lambert-Woodward said, "We want to plant a seed today for recovery tomorrow."
According to Lambert-Woodward, Pathway Homes provides affordable housing and support services to individuals 30 percent below AMI, with them paying 30 percent of their income. The Pathways' Annual Report 2020 cites cost of services per person, per day at $35 for housing and support services compared to a night in jail at $86, medical in-patient day $850 to $1,100, and psychiatric hospital stay $2,000 to $4,000.