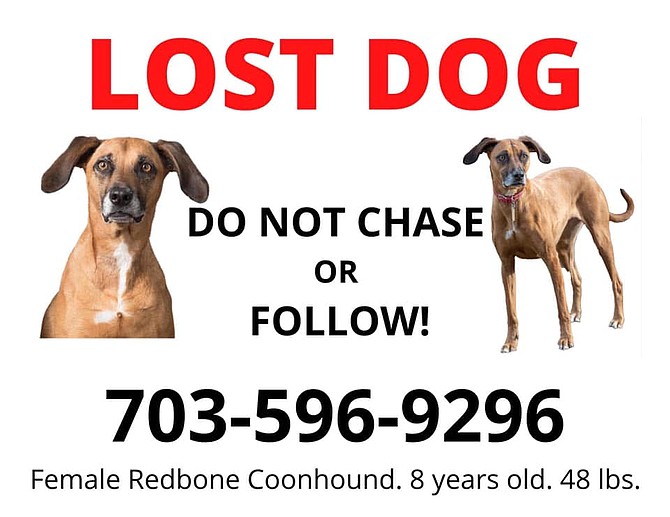 July is National Lost Pet Prevention Month and serves as an important reminder to make sure our pets stay safe.
If you own a dog, you may have shuddered a bit after seeing posters pop up throughout the area alerting to lost dog Bogey. Bogey's "adventure" is continuing longer than that of most lost dogs. According to the ASPCA, 93 percent of dogs who stray are found within 24 hours; the chances of finding a dog drop to about 60 percent thereafter. Dogs are well known for their ability to backtrack home to loved ones. But working against Bogey's nose and scent trail was heavy drenching rain for several days after the start of her run.
Bogey, an eight year old Redbone Coonhound mix, was lost on June 11 during a 1 a.m. yard outing for relief after overindulging in a cicada feast. A strong dog, she pulled through her older collar and away from her owner, Annie Ballentine, of Fairfax, near the intersection of Route 29 and Fairfax County Parkway, to explore the wonders of the night. She left the GPS collar she's worn since past adventures sitting in its recharging station.
Working in favor of Bogey's return is a committed family and a team of supporters. Ballentine, an animal shelter volunteer with over seven years experience, quickly received help from fellow volunteers and was knowledgeable of the recommended actions for dog searches.
Team Bogey peppered social media and area streets, parks, and vet offices with posters alerting the public to watch for the lost dog. Ballentine hired professional dog trackers multiple times, who were able to trace Bogey's movements through ground and air scenting. Through tracing and sighting they learned, that while most lost dogs stay within one or two miles of home, Bogey has covered a roughly 11 mile triangle of territory, including areas around Burke Lake, Lake Mercer, and the South Run trail system; and that she was in the Fountainhead area over a four day period.
What can you do to help bring Bogey home? While a lost dog can potentially survive months or even years on their own, Bogey's family wants her back and Bogey likely wants to be there too. If you have a critter camera or security camera, please check the footage often. The experts say, if you spot Bogey, don't call her, leave out or offer her food, or chase her. Instead call Ballentine (703 596-9296), to whom Bogey is much more likely to respond once she recognizes her familiar scent. You can keep up with news of the search on Facebook at "finding Bogey".
Losing a dog is a worry owners share, with spending for collars, harnesses, leashes and tracking systems accounting for part of the over $22 billion dollars spent for dog supplies each year. Many times efforts to prevent dog loss are insufficient. The American Humane Association says that one in three pets will become lost at some point during their life; over 10 million dogs and cats are lost or stolen in the U.S. every year.