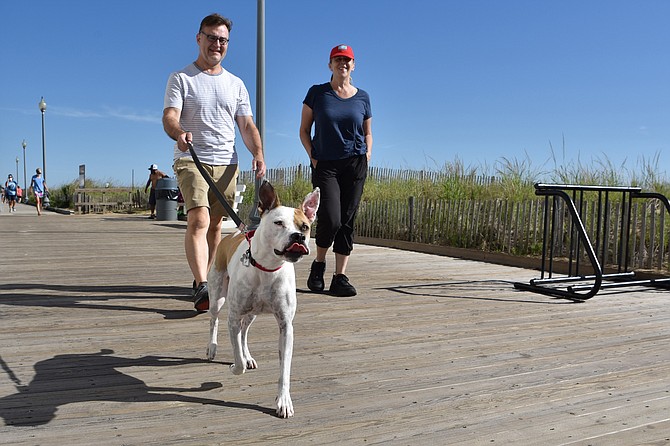 If she ever had a family, we'll never know. The vet believes she was hit by a car. The resulting nerve and muscle damage meant that she had no control over her bladder and bowels.
Ariel would need to wear a diaper if she was going to join a family. And sure, that's not for everyone, but in Ariel's case, it turned out to be for no one. Two and a half years passed and no one wanted to adopt, or even foster, this loving and lovable multi-breed.
It's hard not to feel sad, picturing this sweet-faced canine living full-time at the Lost Dog and Cat Rescue Foundation (LDCRF) kennel. But the truth is, Ariel joyfully embraced the opportunity to interact and play with other dogs as they came and went. And she was adored by staff and volunteers. Her special "champion" was Deb Howard, who spent lots of time with her, taking her on countless "dog adventures" that ranged from hiking to enjoying walks on the National Mall.
That said, a loving home is the goal for all animals who come through the rescue and the staff and volunteers desperately wanted to match Ariel to a family; foster or adoptive. But they were starting to lose hope.
Enter Alyssa Cannon and Michael Morin. The couple had lost their dog of 14 years last December. Still grieving, they were not yet ready to adopt. But they resolved to find a meaningful way to help other dogs, in memory of Lucy.
The two had just completed their LDCRF volunteer training and were touring the kennel in Falls Church when they happened upon Ariel. They say they were struck by the love and warmth that emanated from her lovely brown eyes and they were touched by her story.
And so, they decided to bring Ariel home for a weekend visit. Despite her incontinence, they say she was the perfect guest and it felt great to have a dog in their home again. But their work schedules made a long term commitment impossible. You see, Ariel needed her diaper changed every 2-to-4 hours. With Morin working out of the home full- time and Cannon, a real estate agent with an unpredictable schedule, they just didn't see how it could work, outside of an occasional weekend visit.
Then the pandemic struck, and the team at LDCRF flew into action. It was, after all, an emergency and a scary and uncertain time. They needed to get all of the animals who had been staying at the kennel placed immediately and they did. That is for all, save Ariel. She became the lone dog at the shelter. Staff and volunteers were heartbroken, but didn't give up. There had to be that unique match, that needle in a haystack match for this worthy pup.
While the pandemic has been awful in countless ways, there have been a few silver linings. Morin's job went partially virtual and the couple realized that this would allow them to be, at least part-time, foster parents. And so they embarked on a very creative co-pet-parenting relationship with LDCRF. On days when Morin teleworked, Ariel kept him company and weekends were spent fully enjoying the pleasure of being part of a loving family. And when Morin had to go in to work, Ariel stayed at the LDCRF kennel facility.

Wherever she was, Ariel remained a happy gal. But perhaps her most favorite place was stretched out on the couple's couch. Cannon and Morin say that they often found themselves watching TV sitting on the floor, next to the couch, so as not to disturb her.
When Virginia started opening back up, Ariel loved having the run of Clarendon on her days with Cannon and Morin. She found her way into the hearts of everyone she met, including her friends at the Loyal Companion and South Moon Under.
According to Morin and Cannon, Ariel taught them important lessons about accepting limitations with grace, Ariel didn't let her physical challenges define her or break her spirit. She loved unconditionally and took joy from having that love reciprocated. "She lifted our spirits and served as a reminder of what is really important in this often-times-crazy world," says Cannon.
Ariel had six wonderful months spending quality time with Cannon and Morin. And her passing hit them hard. This tribute was written by Dawn Wallace, Executive Director LDCRF and foster parent, Michael Morin. It has been edited for length:
TO ARIEL
It's with a heavy heart that I share with you that our beloved Ariel passed away yesterday. Over the past several days, her health deteriorated rapidly due to complications from the original injuries she sustained before coming to LDCRF. After seeking out multiple medical expert opinions, the doctors led us to the conclusion that no treatment would enable us to keep Ariel comfortable any longer. They advised that the most merciful thing for us to do was to let her go.
Yesterday afternoon, under a beautiful tree with the sun shining down, a small handful of people who knew Ariel closely and loved her so deeply gathered together. These individuals were there for ALL of us, to ensure Ariel's final moments on this earth were filled with the utmost love, compassion and kindness.
There are as many Ariel stories as there are people who came into contact with her. Walking around the neighborhood in north Arlington, you would invariably meet some stranger in the most random of places – on the sidewalk, in the local pet store, or even at an outdoor restaurant – who knew Ariel. Indeed, one dog out of millions can remind us about humanity and our human-ness: how to love one another, how to treat one another, and how to live and enjoy your life. Despite our best efforts, she had not yet found her forever home, but she had managed to find a permanent place in our hearts.
Ariel is now free, in a place where she now knows nothing but peace, love, healing, has all the tennis balls a girl could want, and most importantly, has no more pain. Rest easy sweet Ariel – you'll be forever in our hearts.
Interested in becoming a foster pet-parent for LDCRF? Check out their website at https://www.lostdogrescue.org/ and click "Foster."
ArPets is a weekly feature for highlighting stories of the pets of Arlington, rescues available for adoption and related stories.
If you live in Arlington, VA and would like to be considered for inclusion in the Connection Newspapers special Thanksgiving ArPets feature, please email joan@joanbradyphotography.com and tell me, in one-to-two sentences, why you are thankful for your pet.
Please include your pet's name, breed/kind, age, the name of your Arlington neighborhood as well as your full name and the names of other family members in your household, as appropriate. Make sure to snap a quick photo of your pet with/without other family members and send in high resolution. Deadline: Nov. 18, 2020.
Joan is an award-winning Connection Newspapers columnist and local photographer specializing in pets, children and families and contemporary business portraits.