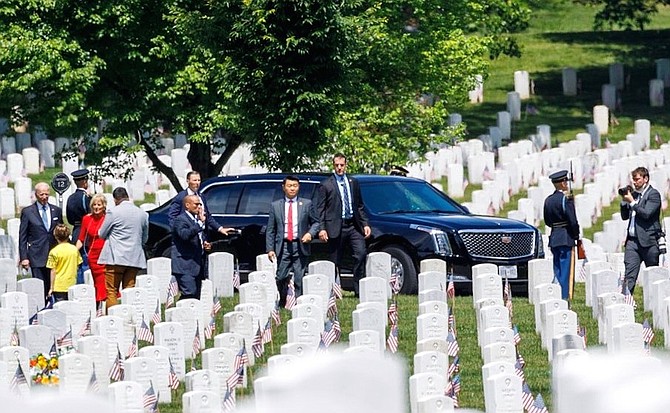 President Joe Biden honored the nation's fallen military during a visit to Arlington National Cemetery May 31, marking Memorial Day by placing a wreath at the Tomb of the Unknown Soldier.
The president was joined by first lady Jill Biden, Vice President Kamala Harris and second gentleman Doug Emhoff in the dedication to deceased service members whose remains have not been identified. Defense Secretary Lloyd Austin and Mark Milley, chairman of the Joint Chiefs of Staff, were also in attendance.
Following the wreath laying, Biden gave his first Memorial Day address as Commander-in-Chief.
"This nation was built on an idea, the idea of liberty and opportunity for all," Biden said. "We've never fully realized that aspiration of our founders, but every generation has opened the door a little wider. We owe the honored dead ... our full best efforts to perfect the Union for which they died."
Due to ongoing COVID-19 precautions, the assembled crowd was sparse and restricted to invited guests.
"Generation after generation of American heroes are signed up to be part of the fight because they understand the truth that lives in every American heart: that liberation, opportunity, justice are far more likely to come to pass in a democracy than in an autocracy," Biden said. "These Americans weren't fighting for dictators, they were fighting for democracy. They weren't fighting to exclude or to enslave, they were fighting to build and broaden and liberate."
Following the ceremony, the Bidens made a visit to Section 12, one of the primary burial locations of service members killed overseas and repatriated to the United States after World War II and the Korean War. More than 400,000 service members are enshrined at Arlington National Cemetery.
More like this story