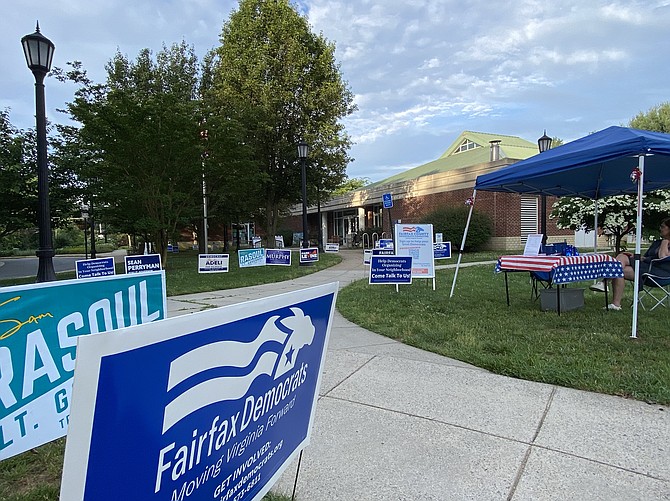 Voters across Fairfax County headed to the polls Tuesday, June 8, to cast their votes in person at the Democratic Party Primary.
Initial voter turnout appeared low. Shortly after the polls opened at 6 a.m., Rebecca Burton stood outside Precinct 320 Herndon No. 2, located at the Herndon Community Center. With no voters in sight, she said, "I'm going to be catching up on a lot of reading." At Precinct 222 Reston No. 3, located at the Lake Anne Community Center, only a handful of voters had cast their ballots one hour into the election.
Precinct 304 McLean witnessed a similarly low turnout at Cooper Middle School. "This morning, as of 8:21, a very enthusiastic ten voters," said Stew Lingley, Chief Election Officer. He attributed the apparent decrease in primary voters to increased absentee/early voting and no excuse needed for eligible voters to cast an absentee/mail-in ballot.
Anne Whipple at Precinct 328 Hickory at the Great Falls Library said election officials were all trying to figure out "how much early voting was the right amount." Greg Stolp, Precinct 214 Vienna No. 2 Vienna Community Center said early voting turnout there was "a little lighter." "It's understandable since there is only one party.
Voters who cast ballots on June 8 voiced various reasons for doing so. Teacher Jeannine Everett of Great Falls said she voted that day because it was important to show her students everyone needed to participate in government. "We've been cooped up too long and we're forgetting we are neighbors," she said.
Elena Lowe of Great Falls said she preferred voting in person. "This seems easier." For Carol Rieger of Great Falls, learning about the candidates proved vital and waiting for the June 8 primary gave her time to research them.
Caitlyn Nguyen of McLean said she was voting on June 8 because she had just learned about the primary, and it was her first time voting in one.
Whipple said she was glad the Democratic Party held a primary even though they "can be messy, confusing, and tempers short." "But after tonight, we'll all be united behind our candidates. We believe in a multitude of voices deciding who will represent us in the General Election [on November 2]," she said.
As reported by Election officials, the total number of votes cast June 8 at the polling places:
Precinct 320 Herndon No. 2 – 110 at 11:20 a.m.
Precinct 222 Reston No. 3 – 88 voters at 11:02 a.m.
Precinct 328 Hickory at the Great Falls Library – 74 voters at 11:36 a.m.
Precinct No. 304 Cooper McLean – 40 voters as of 11:36 a.m.
No reply from Precinct 214 Vienna No. 2 Vienna Community Center