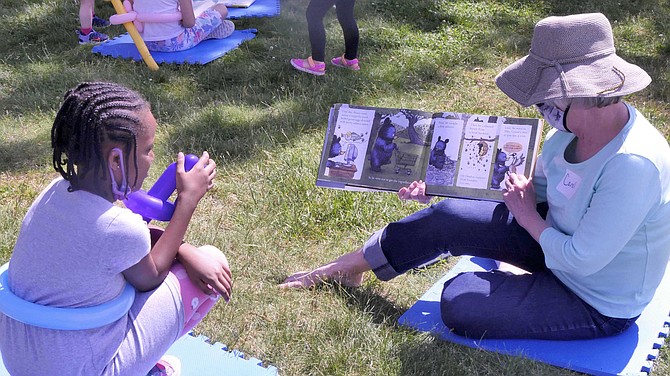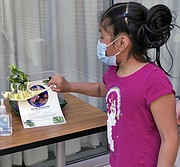 A colorful converted school bus emblazoned with R.E.A.D. sits by the First Presbyterian Church on N. Vermont Street Wednesday, June 2. During normal times this bookmobile serves as a mobile library for children without books in their homes. Today the books are spread out on tables in the church yard as part of the Arlington Partnership for Affordable Housing (APAH) Parade of Animals activities held just across the street from their Springs Apts. property.
Jennifer Sauter-Price, Founder and Executive Director of R.E.A.D., says this non-profit organization provides free new books to children 0-5 years old. The project is funded by raising money through pop-ups, book fairs and on-line appeals.
"We gave out over 6,000 books last year."
Ramy Benmessaoub stands by the table picking up each book carefully and browsing through the pages. He knows he wants an Elephant and Piggie book but the question is which one. A few minutes later they are all gone. The Elephant and Piggie books are snatched up fast.
Carol Dawson sits on a lawn pad nearby reading a Mother Bruce book. "This is a riot."
She begins, "She was a grumpy bear and she loved to eat eggs...."
Meanwhile a line forms at the stand where the balloon artist produces colorful balloon creations. A tiny girl requests a unicorn. "Those are the most popular. But, sure I can do a butterfly." Another young warrior requests a sword which is a complicated creation with a balloon belt sporting a loop for inserting the balloon sword.
Across the street a turtle wanders back and forth across the concrete in the courtyard of Spring Apts. where a petting zoo has been set up as part of the festivities by Ferrets and Friends from Baltimore. A bright red parrot cocks its head as it waits for a treat offered by tentative fingers through the bars of its cage. A multi-colored green chameleon accepts a pat on the back.

Today's event sponsored by APAH for their residents included choices from a wide variety of free books, a balloon artist, story time and a petting zoo. Julene Jarnot, APAH Resident Services Manager, says she likes to organize the events around a theme, this time it was animals.
"Access to and choice of books is a key factor in developing a child's reading skills. Our goal is to help kids discover a love of reading." She adds they will be hosting more of these events during the summer and are currently also holding two Encore Stage and Studio classes for children at Gilliam Place Apartments. "Kids are hungry to be together again."
APAH is a nonprofit affordable housing developer with 2,062 rental homes at 18 properties.