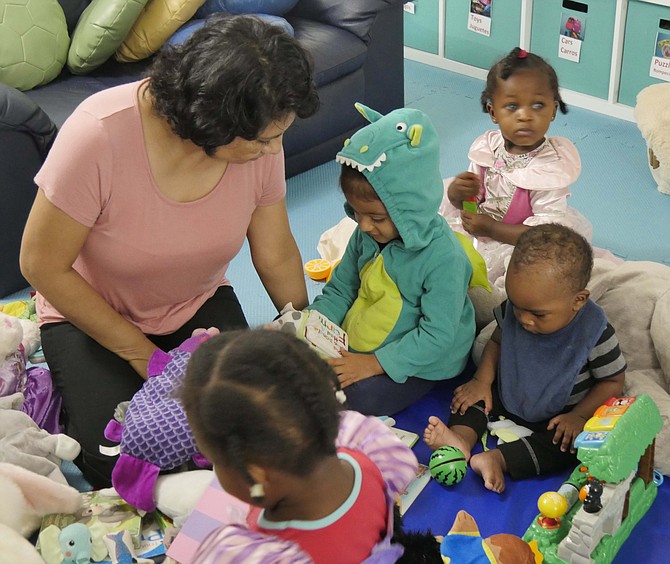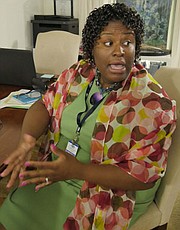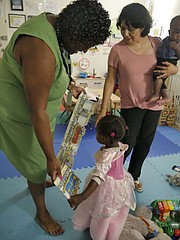 Sounds of chattering children can be heard through the door at the Campagna Center family child care home on S. Van Dorn Street. "Let me take your temperature." Rashanda L. Jenkins is playing doctor with Camila Paz and Rowan Kharif during her home visit on June 11.
Jenkins has been director of the Campagna Center's Family Child Care Partnership for seven months. She was previously at the Northern Virginia Family Service for nine and a half years "but I knew I wanted to stay in the early head start area and to grow, expand my skills and be in a leadership role." Now she coordinates and supervises 52 children in 18 family child care homes with a staff of three.
Her day is spent building relationships with the community and potential child care providers interested in partnering. She is out in the field visiting providers as well as building relationships with the children. "I look at the environment, listen to strengths and build capacity in the child care homes. We work on professional development."
Lilia Crisostomo sits on the floor surrounded by four children in a cheerful room in her learning center in her child care home. She is reading "a very long book about a train." The book unfolds as it stretches out across the room. "The train has animals and sometimes we select one animal, and that is the animal we talk about." She reads books in both Spanish and English. Isra Kharif, in her pink princess dress, points at the picture of the pig for today. "Every day when Isra arrives she wants to change into the princess dress."
The morning also includes free time where the children may choose what to do. And then to the park "but not today because it's raining." She says Isra loves water and whenever they play with it outside, Crisostomo throws her hands up to illustrate, "Isra splashes it all over."
Jenkins says they help the child care providers choose age-appropriate materials. The room is lined with small cubbies filled with colored multi-size rings, pop up toys, and stuffed animals litter the floor.
In the corner on the couch Camila Paz and Rowan Kharif have chosen to spend their free time playing doctor. Camila is checking the injury on Rowan's arm and applying a Band-Aid after listening to her heart with a blood pressure gauge. "Camila is very smart and very social," Crisostomo said. "And she tries something until she gets it. She wanted to work a zipper and kept trying until she was successful."
Essex Stephen is the youngest in the group at seven months. "He's our little baby. He wants to be up all the time." Essex illustrates by standing on her lap and trying to climb. "When he wants to see something across the room, he tries to get there. And," she adds,"he is always hungry."
Jenkins says families can apply for any one of the Campagna Center's three programs. They must fit within income qualifications and residency requirements. "There is an extensive waiting list."
Likewise child care providers are chosen after a rigorous screening and on boarding process including an orientation about program expectations, a health and safety assessment of the child care home, professional development, achievement of a CDA (Child Development Associate credential) within 18 months, and availability of appropriate materials for the children. Crisostomo had been a teacher in her home country of Mexico.
One more book please: "Tickle Teddy" with the gold fuzzy teddy bear puppet jumping out of the cover or "First Words" or maybe back to the train book this time with gorilla, or elephant or rooster.