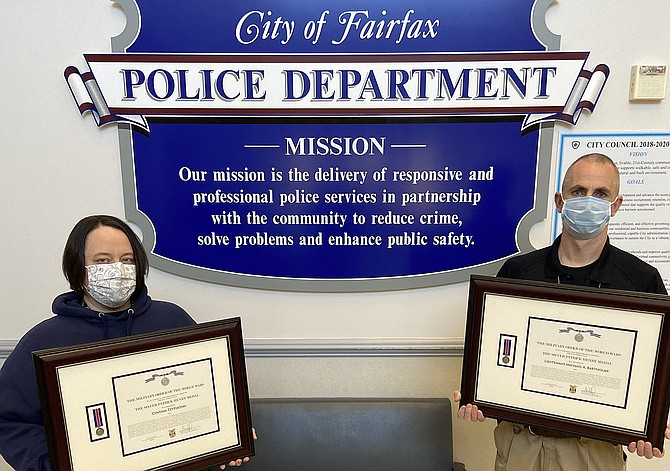 Fairfax City Police Lt. Michael Bartholme and Dispatcher Cynthia Tetterton were recently honored with the Military Order of the World Wars (MOWW) Silver Patrick Henry Medal. This award is presented by the local MOWW chapter to members who deserve special recognition and excel in the areas of law enforcement, firefighting and criminal justice.
"These two individuals exemplify teamwork and dedication to the City of Fairfax and beyond," said Police Chief Erin Schaible. "We congratulate them, as well as all of our officers who work so hard every single day. This past year has been an interesting one, but their excellent police services are appreciated by the rest of the department and the community."
Bartholme has been with the City's police department for 16 years. "He has been a huge asset in the world of COVID-19 by giving our department the information, knowledge and resources it needed to combat the virus," said police spokesman, Sgt. Brock Rutter. "He plays a key role in making staffing decisions based on quarantines, testing and vaccinations. During this time, he has also taken over the captain duties involved with the Administrative Services Division."
As for Tetterton, an eight-year member of the department, Rutter said she received her award because of "her dedication to the City of Fairfax and its dispatching program. She handles the dispatch scheduling and is willing to work both days and nights to cover shifts whenever one needs to be covered. Tetterton is also part of the Peer Support and Community Outreach (P.O.L.I.C.E.) teams." And besides her full-time dispatching duties, Tetterton serves her own, local community by being a firefighter/EMT for the Little Fork and East Rivanna Volunteer Fire Departments.