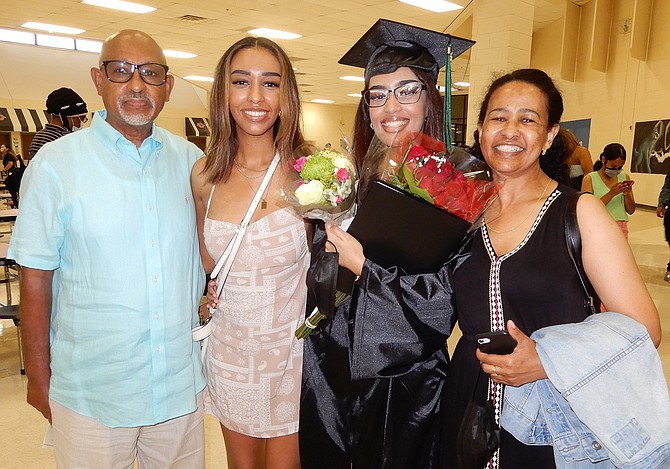 At the outset of Mountain View High's graduation, last Wednesday, June 9, at Centreville High, Assistant Principal Catherine Stone noted that it was the school's 50th graduation ceremony. And she acknowledged the students' many emotions, ranging from "pride, excitement, happiness relief and, perhaps, sadness."
She told them, "You share a bond with the Mountain View family and share with past grads the traits of grit, perseverance, resilience and strength. And Mountain View teachers and staff, your extraordinary efforts have helped the students reach this day."
Principal Joe Thompson said the Mountain View Foundation awarded more than $31,000 in scholarships this semester. And, he added, "We deeply appreciate the opportunities they'll provide to the students." He then addressed the grads.
"As a graduating class, you've shown amazing desire and commitment," he said. "Our Mountain View family believes you can succeed, and we're proud and grateful to be part of this celebration. Mountain View challenged you to work for your diplomas – and you've earned them. They can't be taken away, and you can say, 'I did it.'" He next explained how the school's motto, "Family, Love and Respect," applied to them."
"You showed grit and determination in dealing with multiple, in-person and virtual courses," said Thompson. "But we had confidence in you, and love gives you that confidence. I believe you'll always remember the positives and how you overcame tremendous challenges and achieved success during one of the most tumultuous times in our nation's history.
"Family, love and respect played a part in it. So when you encounter new life challenges, find the people you trust and have faith in you – these are your family."
THOMPSON said the school's diversity of cultures and religions is good because it taught the students to respect each other's heritage.
"Students from 14 different schools and neighborhoods attend Mountain View; and our communities will grow because of your respect for each other," he said. "Continue to use the skills you learned here – inclusion, citizenship and respect will serve you throughout your life. And never forget you're important and valued and deserve success. Congratulations on all your successes today and those yet to come."
Then came the student speakers – always the most heart-tugging part of any Mountain View graduation. That's because the majority of the students are immigrants who've endured numerous hardships just to come to America and then to obtain an education. First at the podium was Marwa Mohammadi.
"I came from Afghanistan, where men took control over women's lives," she said. "Instead of shooting stars, there were bullets; the home was four walls and no running water. All these hardships ignited my passion to become an educated person so, in February 2017, when I was 18, my family and I emigrated to the U.S."
Mohammadi wanted to go to school, but her age was a barrier. So instead, she endured long, freezing-cold hours working in a meatpacking factory. After two years, she decided to try to attend high school. She enrolled at Mountain View while holding down a job at Dulles Airport.
"I worked 16 hours, Saturdays and Sundays, getting up for work at 1 a.m. and then going to school at 8 a.m.," she said. "These experiences and conflicts made me more determined to achieve an education. In Afghanistan, no one believes in a woman's abilities. They think women are only for delivering babies, keeping house and cooking. I proved them wrong.
"Now, said Mohammadi, "I've been accepted to JMU and Virginia Tech. But I'm choosing to start my new life at GMU to pursue a degree in computer science. Thank you, and congratulations, Class of 2021."
Speaking next was Zelda Odamtten. "Coming to the U.S. from Ghana was a long journey," she said. "I attended Centreville High, but my life crashed down when I was kicked out of my house. I was 18 and didn't know how to fend for myself – I cried myself to sleep. My grades dropped, and people told me I wasn't worth it. I was on the verge of failing 11th grade, and I considered taking my own life."
Her counselor told her about Mountain View and, once she visited there, said Odamtten, "I felt the spirit of love." But when COVID-19 hit, she had to stay at Centreville, although virtually. Then last fall, she transferred to Mountain View, at last. However, she said, "I worked in a grocery store from 6 a.m. to 2 p.m. and was too exhausted to do any schoolwork." But that roadblock didn't derail her resolve to graduate.
"As I scanned groceries, I did schoolwork on my laptop," said Odamtten. "I changed the narrative of my life, driven by a fire and determination to complete classes. It took me 35 minutes to reach my bus stop, but I was finally able to attend Mountain View – and I felt at home here. Despite the masks, people's eyes were shining. I felt so much love, dedication and respect here. I felt like I was worth something."
She's now been accepted to Norfolk State University, where she'll study psychology. "I've defied all odds," Odamtten told her classmates. "Challenges are made to make you, not break you. Whatever you face, you can do it with hard work and dedication."
SPECIAL AWARDS were presented to three deserving students chosen by the teachers. The winners were as follows:
The Citizenship Award is given to a student who's helped build a positive school community. This year's recipient was Mebratu Woldeyohannes. In presenting it, math teacher Dylan Thomas described him as "the epitome of family, love and respect."
The Personal Achievement Award goes to a student who succeeded academically and personally, despite having adult responsibilities, such as a job or a child. The winner, Zelda Odamtten, was also an honor graduate and received a scholarship.
The Faculty Award is given to the student achieving the greatest academic and personal success, despite significant obstacles. Math teacher Tina Akula presented this honor to Kunming Chen. "He came from China at age 15, not speaking English, yet earned a 3.97 GPA and graduated in only 2-1/2 years," she said. "He's always serving others, and his hard work will take him far."